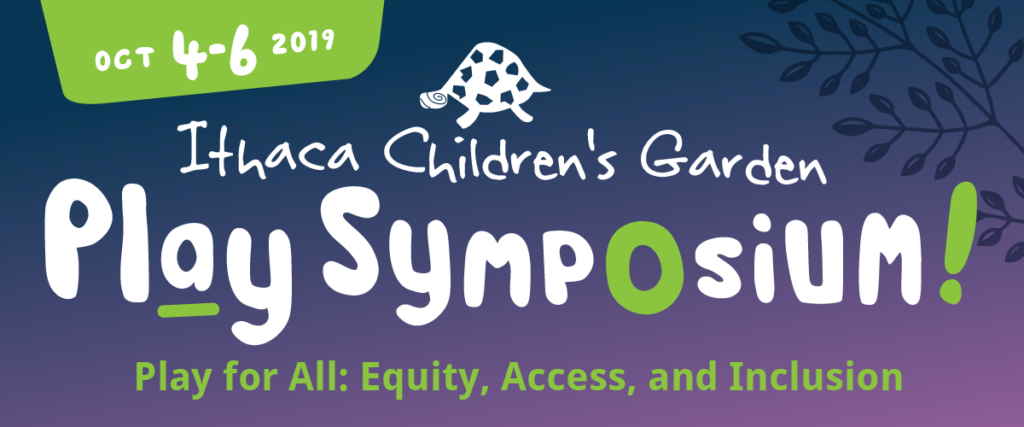 This year marks the 4th Ithaca Children's Garden's Play Symposium: a gathering for change-makers fostering a culture of play in their communities.
Join Ithaca Children's Garden for three days of sharing, discussion, and play, while learning from local initiatives and play leaders from across the US. Featuring panels, play observation, presentations, and more, Ithaca Children's Garden Play Symposium is highly relevant for educators, parents, play professionals, parks and recreation staff, city administrators, and anyone passionate about children, education, the great outdoors, health, well-being, social justice, or play.
The 2019 Ithaca Children's Garden Play Symposium theme is Play for All: Equity, Access, and Inclusion. We are so excited to share that a keynote from Dr. Corliss Outley of Texas A&M University and Dr. Harrison Pinckney IV of Clemson University, will open the conference on Friday, October 4th. The authors of the seminal essay "Playing While Black," which addresses the impact of race on the recreation of black youth, their work has been instrumental in advancing the discussion of race, recreation, and youth development. Visit here or see below for a full schedule, speaker details, and information on accommodations in Ithaca.
The keynote is free and open to all. Register for the keynote only here.

Breakfast and lunch will be provided on Saturday and Sunday.
[sched sidebar="no" url="//icgplaysymposium.sched.com/"]View the Ithaca Children's Garden Play Symposium schedule & directory.[/sched]