Lucas VanDee Takes on Co- Leader Role with TUF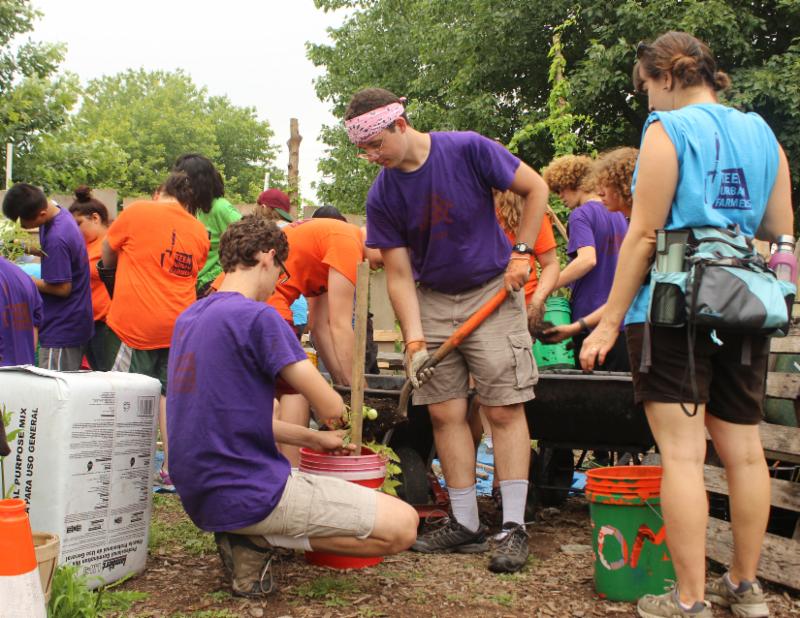 Teen Urban Farmers (TUF), ICG's longest running program (started in 1999) introduces Lucas VanDee, teen co-leader to assist TUF Manager, Lauren Salzman. Teen Urban Farmers empowers teens through a unique summer employment experience and year-round after-school program. Influenced by positive youth develop research and practices, TUF builds a strong work ethic and helps teens develop marketable skills in the areas of horticulture, entrepreneurship and leadership.
As TUF's very first  2017 co-leader and college mentor, Lucas VanDee is responsible for supervising and overseeing projects, managing and delegating tasks, and modeling effective job skills. Lucas has been part of TUF for the past two years, first as a TUF teen, then as a Teen Mentor. "It is a goal of the program and also an indicator of the impact of TUF to see teens like Lucas returning year after year, in increasing levels of leadership," says Erin Marteal, ICG's Executive Director.
Lucas was born and raised in Ithaca, and loves to be involved with hands on projects. He currently attends the Rochester Institute of Technology, majoring in Mechanical Engineering, and hopes to keep doing hands-on work throughout his life.
One of Lucas's favorite aspects of being a co-leader has been the ability to lead projects that have immediate results. According to Lucas,
"The possibility to do noticeable work, and initiate noticeable change has been a great aspect of working with TUF."
Lauren Salzman, TUF Manager, knows Lucas well and has worked closely with him during the past years. "Lucas knows the program intimately and helps the Teens have positive experiences," says Lauren.  "TUF's structure of having a peer co-leader, provides an environment that nurtures and promotes collaboration and group cohesiveness. Given Lucas's history with the program, he is able to provide experienced support and instruction."
Thanks to incredible collaborations with Workforce NY and the Ithaca Youth Bureau YES program, ICG is able to provide an extraordinary first employment placement for teens in an experience that does not look like a typical summer job. In addition to a paycheck, teens walk away with quality life and job skills including the ability to work well as a team through all kinds of adverse conditions, what it takes to grow food through the Seed to Supper curriculum (a curriculum of Cornell Cooperative Extension) and access to all kinds of experts in the field from composting to floral arranging, marketing, business, and customer service.
If you know someone that is interested in being a part of TUF in the future, we encourage them to find out more about the program here.
See what the TUF Teens are up to by checking out these photos!
Thank you to Haslinger Foundation for providing major funding for TUF, with additional support provided by Purity Ice Cream, Ithaca Bakery, and Ithaca Ice Company.