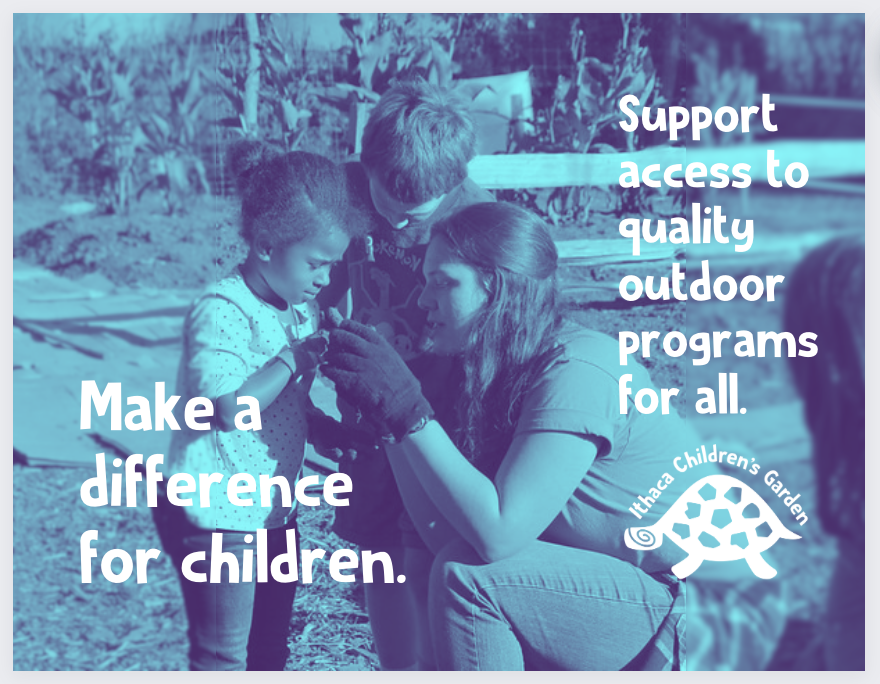 Support ICG's Scholarship Fund
At Ithaca Children's Garden, we believe that every child has the right to play, learn, and grow outdoors. Scholarships are critical to how ICG serves this vision. Ithaca Children's Garden strives to be welcoming for all, and this means ensuring that no one is turned away from our programs due to financial means.
Our Scholarship Fund provides access to nature for every child by supporting our nature and play focused programs such as:
Playful Nature Explorers, our nature preschool that allows children as young as 2.5 to experience unbridled play in nature
After School @ ICG and School's Out Camps which provide vital childcare when schools are closed, and free play with peers after rigorous school days for children K-5
ICG Summer Camps that grant care and outdoor learning adventures for children aged 3-12
ICG's scholarships are easy to request. Our process is rooted in respect, trust, and dignity for families who face financial barriers, allowing more children to learn and revel in the outdoors. Playing in nature with a community of friends and peers, is an instrumental learning experience; sowing the seeds for future success and connection with not only the Earth, but food sources, sustainability, and interpersonal relationships with people of all backgrounds.
By giving to our Scholarship Fund, you can ensure opportunities that will cultivate a lifelong appreciation of nature will continue to grow at ICG, and help unlock a $17,500 matching gift to support ICG's Scholarship Fund. We all belong in nature, and together we can help children forge their own unique bonds with the natural world.
I often think about the only time I ever went to camp which was in 3rd grade in Brooklyn. I didn't have to think about how much it would cost or if I could attend because I was offered a scholarship. For one whole week I was put on a bus with other students to experience camp. I learned about bugs, insects, and worms. Today, I am a master composter and love to see the worms in my compost pile! When I went to camp, I felt lucky and I still feel lucky now because someone recognized that I belonged and should have the opportunity to experience the great outdoors. ~ Ritza Francois, former ICG Development Director