Come play on Gaia the Giant Turtle and learn why this snapping turtle is so special to ICG.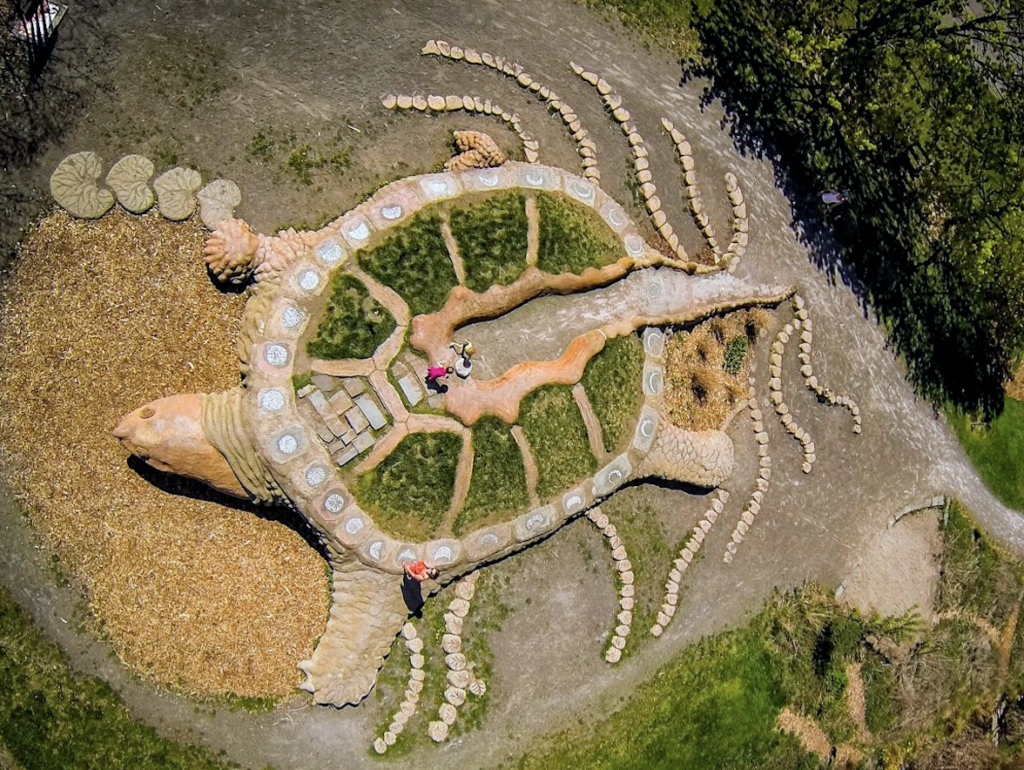 Meet Gaia the Turtle, the larger than life land sculpture who greets visitors at the south entrance to the Garden. Hatched in 2005, Gaia has been a landmark, favorite play feature, and ICG's logo ever since.
Why a Turtle and Wetland Habitat Garden?
Did you know that every snapping turtle has 13 plates, or scutes on its back? The snapping turtle's back is a lunar calendar. The 13 central shields represent the 13 moons or lunar months in a year. The 28 outer shields represent the 28 days in each lunar month.
Cultural heritage
Many cultures tell wonderful stories about turtles. The Haudenosaunee (Iroquois) indigenous peoples of this area used the snapping turtle's back as their calendar. To the Haudenosaunee, the entire world was formed on turtle's back.
Time and seasons are important themes in gardens, nature, and our own lives. Learn more about the Turtle Calendar in Joseph Burchac's book 13 Moons on Turtle's Back.
Natural significance
Before the inlet was developed in the early 1800's, land along the inlet and ICG site were wetland habitats and home to the common snapping turtle and many other animals, insects, and plants. Snapping turtles are native to New York State and thrive in the Finger Lakes region. They live in places with slow moving, shallow water, and lots of plants. Wetlands are unique ecosystems that are very important to the health of the environment with a wealth of highly specialized plants, insects, and animals.
Turtles have been around for 230 million years. They live for decades and are often a symbol of longevity.
Made possible by NYS Environmental Protection Fund, Triad Foundation, and concrete sculptor and artist Bo Atkinson.