Who knew growing food could be this fun?!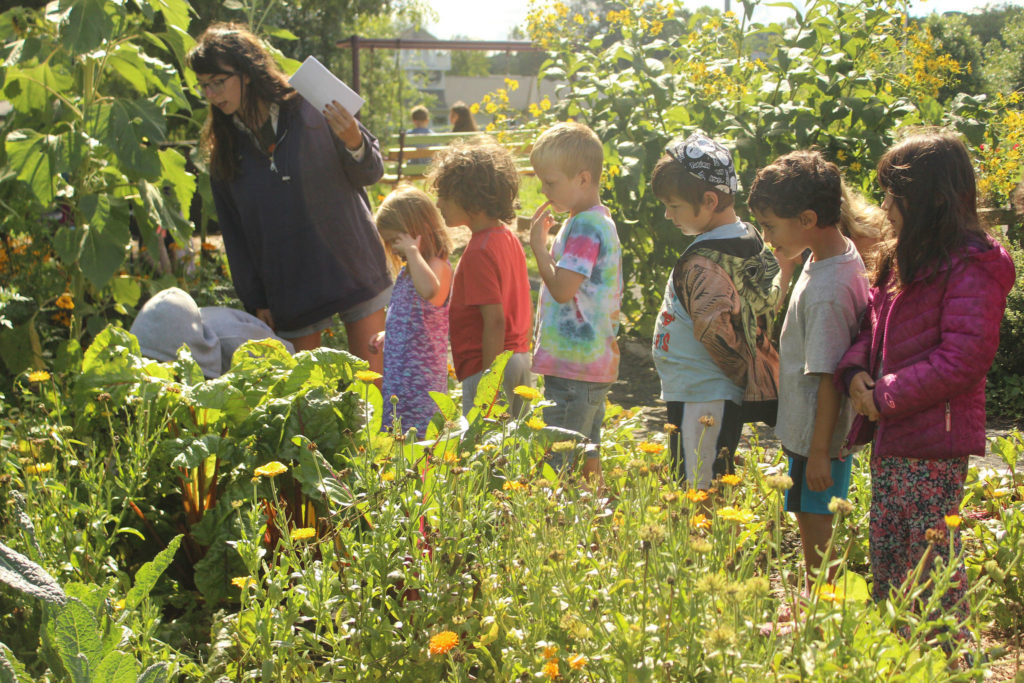 The 3 T's of ICG: Taste, Touch, (T)smell!
Come enjoy a basil leaf, a fresh bean or sun-kissed cherry tomato from our garden.  We encourage you to taste a leafy green, feel a soft flower petal, smell the lavender and herbs while exploring our Kitchen Garden.
Our bounty is used to:
The locust pergola in the Kitchen Garden is designed with 4 wheelchair accessible raised beds, planted with different herbs, flowers, and vegetables each season, and benches for seating under the structure. The pergola supports hardi kiwi vines that provide shade to visitors.  Look up and see the top-bar honey bee hive with viewing window!
The world of growing food is yours to explore!
Espalier is a French pruning technique well-suited for growing fruit trees in small, urban settings. By training fruit trees and berries along small, narrow spaces such as sunny walls and fence lines, espalier makes for easy picking and allows sunshine to reach all the fruit and branches. It also can be artfully trained into beautiful, productive sculpture! ICG campers have espaliered the trees into traditional and more whimsical shapes, including a kite, t-rex, fireworks, and more! Come see the apple, cherry, plum, and pear trees espaliered along the northern edge of the Kitchen Garden.
The Kitchen Garden is supported by the ICG-GreenStar Partnership for Healthy Kids. Thanks to the Ithaca Garden Club and City of Ithaca for the donation of the fruit trees, planted in honor of Arbor Day, 2012, the Town of Ithaca for generous donations of compost, and numerous others who have contributed time, talent, seeds, and plants to keep our Kitchen Garden growing for all.
Want to get your hands dirty in the Kitchen Garden? Volunteer at ICG!