Ithaca Children's Garden loves volunteers!
Bees buzz, chickens scratch, plants grow and produce, and children learn and play. The garden grows thanks to volunteers just like you.
---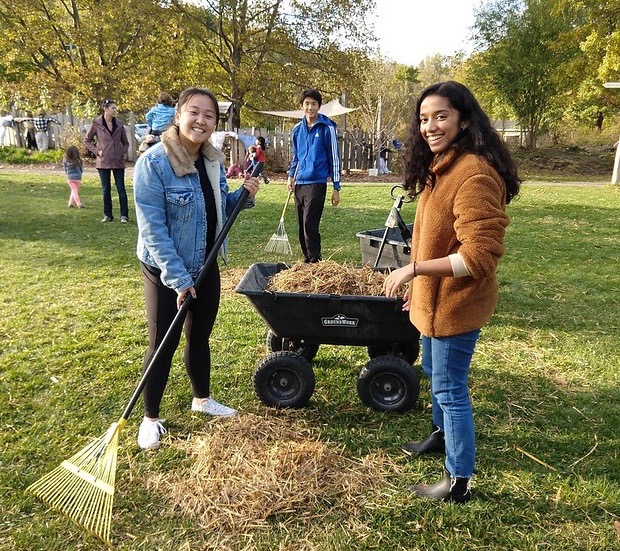 Do you or your group want to:
Yank invasive weeds, sending them to the great compost pile in the sky?
Help staff our major events:  Tough Turtle, Fire and Ice, Mud Day, or Scarecrow Jubilee?
Tend perennials?
Become a mulch monster?
---
We have a constantly evolving, infinite list of projects that truly fit the proverb "many hands make light work." From tabling at an outreach event and supporting education programs, to serving on a committee, or helping in our office, there is a place for you at ICG. Come for a few hours, work outside, and leave with the satisfaction of a job well done.
---
How to volunteer:
For individuals, the first step is to complete a brief Volunteer Interest Form. Interested in group volunteering or corporate service? Fill out this Volunteer Group Interest Form.
These help us match you with upcoming opportunities and roles that interest you. Once you complete the form, watch your inbox: we will be in touch.
You are also welcome to submit your inquiry via our Contact Page.
If you haven't heard back within a week, please follow up. We don't want to miss you! Email us: volunteer@ithacachildrensgarden.org
or call: (607) 319-4203
---
What to bring when volunteering:
The Garden has tools, gloves, and tasks ready: just bring a smile, closed-toed shoes, sunscreen, a hat, and layered clothing, appropriate for the season. Children under thirteen will need supervision. We'll show you what needs to be done and how to do it!