The Garden has reopened! As always our top priority is the safety of our guests, staff, and volunteers. For our reopening to be successful we will need the full engagement and support of the community. Please read through our Know Before You Go: Guest Guidelines before your visit to the Garden!
---
Ithaca Children's Garden is one of a kind; you won't find another place like it anywhere on earth. Whether a local resident or visitor to the Finger Lakes, ICG is your garden. Step inside and let your child – or child within – be your guide.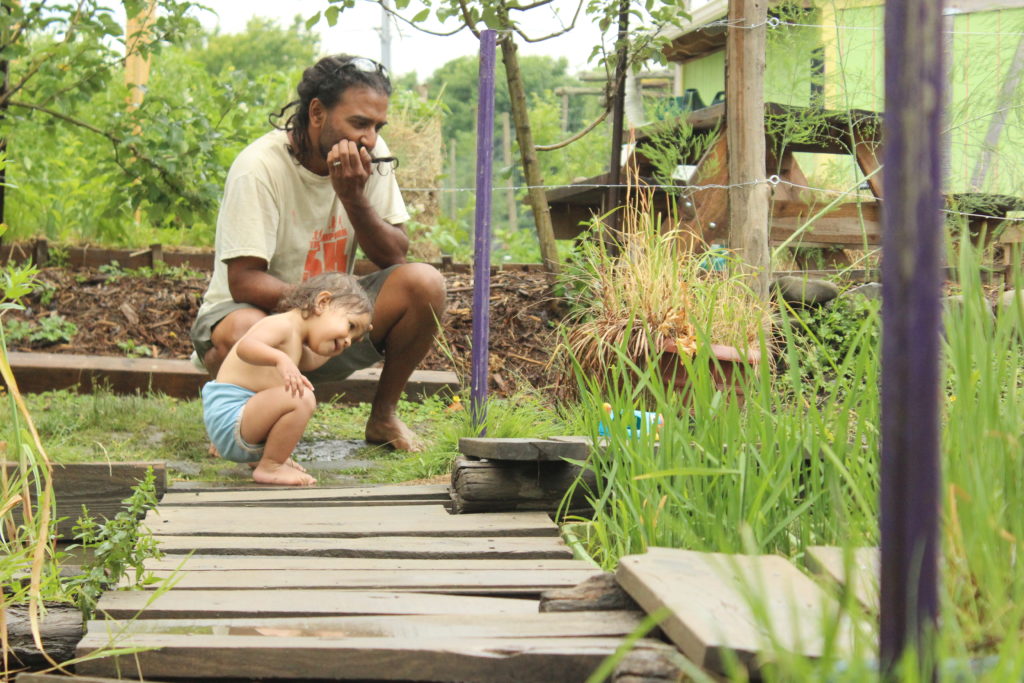 Here's what you need to know to plan your visit:
Every person is welcome.
ICG is free and open to all, dawn to dusk, 365 days a year.
ICG is wheelchair accessible.
Potable water is available April-November.
Wheelchair accessible porta-potty and rustic restrooms available.
Pack a change of clothes for your young ones just in case.
Well-behaved dogs on leashes allowable in some areas of the Garden. Children have the right of way.
Planning a visit from out of town or bringing a group? Please let us know so we can communicate any important updates and register your visit.
ICG offices are a 10-minute walk from the Garden so you may or may not encounter staff when you visit the Garden.
Guidelines for use:
Respect yourself – Respect others – Respect the environment.
Sign the guestbook. Include your city and state, how many in your party, and how we can get in touch if you want to stay in the loop.
Please be gentle around animals, insects, and plants.
Dogs are not permitted in the Kitchen Garden, wilder areas, or as posted.
Pack a snack or picnic if you wish to stay a while.
Carry in, carry out. Please take all trash with you.
No smoking in the Garden or within 20′ of entrances.
Observe all posted signs.
Respect your child's time and experience. Let your child lead you.
If you see someone in a turtle shirt, feel free to ask them questions – or call our office if you need assistance.
Ithaca Children's Garden is for EVERYONE:
Ithaca Children's Garden welcomes all members of our community to participate in all programs and activities offered by Ithaca Children's Garden regardless of ability. We encourage all members and volunteers of Ithaca Children's Garden to support an inclusive and welcoming environment for everyone. Learn more about ICG's Inclusion Policy and/or submit an accommodations request here.