Community Professionals Instrumental in New ICG Signage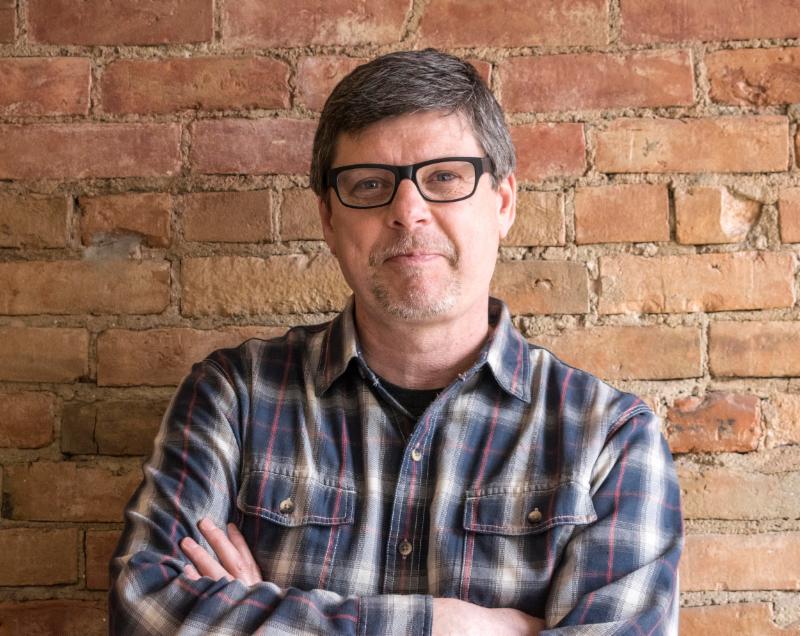 Todd Edmonds, CEO and Creative Director of Iron Design, helped design a three-sided, 20 foot tall identity sign for Ithaca Children's Garden Garden to be placed at the Rt.89 Intersection.
The sign will increase the Garden's visibility to passing traffic and pedestrians and after a long time in development, has received official city approval. The sign is slated to be installed in early fall.
Todd has been donating his professional graphic design services to ICG for the past five years. "Todd always shows up ready to listen fully to all ideas on the table, ask good questions, and leverage his professional expertise to support the emergent vision," says Erin Marteal, ICG's executive director.
"You can tell Todd is passionate about contributing his time and talents to the community," said Sarah Fiorello, Interpretation Coordinator at The Cornell Botanical Gardens and chair of ICG's Interpretation Committee. "As a member of ICG's volunteer interpretation committee, Todd enthusiastically helps design and create signs and other valuable interpretive materials that guide and connect visitors to their experience at Ithaca Children's Garden."
Todd first worked with ICG on the design of the interpretative sign for Gaia and the wetlands in 2012 and has served as graphic designer for ICG's Tough Turtle adventure obstacle race since 2013. "In spite of Todd's busy schedule and the nature of his work with us being pro bono, Todd always makes us feel like ICG is a priority client," said Marteal.
The sign was made possible in part thanks to a grant form the Tompkins County Tourism Program and a generous private donation.
Todd Edmons says of the new sign destined for the Rt. 89 intersection nearest Gaia, "The impact of a distinctive identity sign for Ithaca Children's Garden will be dramatic, and [will] give the Garden another cool landmark for visitors to reference when they describe the space to friends. I'm excited to help make this come to fruition."
In addition to the Rt. 89 sign, the Interpretation committee on which Edmonds and Fiorello serve championed an additional project of designing colorful maps for the Garden, also funded through a grant by the Tompkins County Tourism Program.
The maps were illustrated by local artist Marika Chew, who has also created several murals at ICG and helped with the build of the turtle giantess, Gaia in 2005.
Local metal artist Durand Van Doren fabricated the iron bases for the maps which are slated to be installed next month.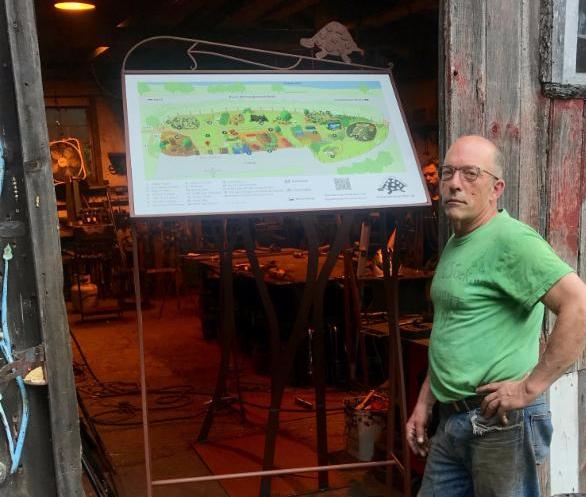 The creation of new signage is another step forward in increasing ICG's visibility and sharing the wonders and beauty of Ithaca Children's Garden with even more people.
Do you have a special talent or skill you'd like to share? ICG is always looking for community members with niche skills to support our mission. Current and upcoming ICG projects would greatly benefit from professional kitchen design expertise, carpentry, plumbing, turf repair, bulb gardening, and much more. Contact erin@ithacachildrensgarden.org if you would like to learn more.