ICG Bids a Fond Farewell to Erin Marteal
After just over 10 years leading Ithaca Children's Garden as Executive Director, this week we bid a fond farewell to Erin Marteal, who announced her impending departure last August. Succeeding her beginning February 14 2022, will be Candice Meade.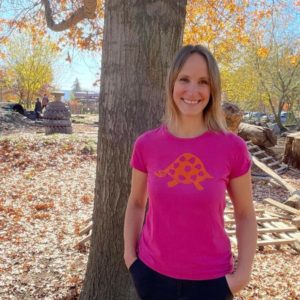 The Garden has been transformed in the last decade with Erin's guidance, and so too have we all. Our ICG community has been deeply honored and changed by Erin's service, empathy, trust, and leadership, and we wish her success and joy as she begins a new adventure in Virginia. In celebration and praise of Erin's time as Executive Director, those who have worked closely with her throughout the last decade, have shared some of their parting words on the experience.
---
Working with Erin over the last 10 years of partnership between Ithaca Children's Garden and the U.S. Fish and Wildlife Service has been a privilege and a joy. She is an exceptional leader who appreciates and supports partnerships, is innovative, has great vision, passion, and gets things done. I am very proud of what we have accomplished working together and wish her the best in her new adventure in life. I know she will be successful.
David Stillwell, U.S. Fish & Wildlife Service
---
Erin has been an amazing Executive Director in ways beyond description. Her vision, wisdom, unlimited energy and concern reach every part of ICG: from digging up sod for the bulb labyrinth, providing benefits for an incredible staff, adding the chilly community event Festival of Fire & Ice, initiating the ever popular summer camps, beginning the Play Work conference, starting Playful Nature Explorers preschool, helping dig the trail for the new GIAC pollinator garden, setting up outdoor classrooms for the Ithaca City elementary schools during the current pandemic, finding ways to make ICG more inclusive, and adding the much loved Hands On Nature Anarchy Zone to name just a few.
Working alongside Erin has been a constant pleasure, learning experience, and source of amazement. I thank Erin for her incredible passion and extraordinary vision, and for making ICG a special place in the Ithaca community and a shining example for others to learn from.
Harriet Becker, ICG Co-Founder
---
Wow, when I think back 10 years to when Erin Marteal came along and saved the Children's Garden, it is hard to believe how close we were to the brink of failing, compared to where we are now! A lot has happened in the last 10 years. We were introduced to Erin when she gave a talk at Cooperative Extension about her Masters research on Permaculture as a new landscape approach for Botanic Gardens. I knew right then when I heard Erin speak, that we needed her for ICG…to be able to realize our goals of connecting children and families to nature around them.
Erin had a lot of muck to wade through on her journey as ICG Director. First she had to cajole me into finishing the documentation required to get reimbursed for ICG's first BIG NYS Parks and Historic Preservation Grant which funded the garden design and installation of the bones of the garden, most notably our beloved turtle, GAIA. Our finances at the time were totally dependent on getting reimbursed for the investments made so we could move on. Luckily, we weathered through that time and slowly began to re-surface all owing to Erin's steady leadership.
Once the backwater was drained, Erin could move forward with growing Ithaca Children's Garden. Looking back over the years, I realize how strategic Erin was in that effort. She tackled the hard stuff like fundraising, grant writing, growing the board and staff, and was present for the fun stuff like Tough Turtle, Fire and Ice, and educational programs. She came to us with a degree in Botanic Garden management but did not really have prior experience managing a non-profit organization or developing a garden. Clearly she had passion and vision for what the garden could be/become and was good at juggling.
As a loosely involved board member and CCETC liaison, I learned a great deal from Erin about building a board, engaging donors, and building a solid team of staff who shared in Erin's passion for the ICG vision. The process of building ICG to what it is today required a 24/7 commitment from Erin, as well as her two sons and husband who were often pressed into service. So now, I realize it is only fair that Erin be allowed to move on.
She has brought the garden to a "safe" place from which to launch into the next phase. Certainly, like all organizations, COVID put a dent into ICG programming during the past 2 years, but in many ways, the value of ICG has been made more clear – our lives are enriched by nature and the outdoors and that needs to start at an early age. ICG now is not only a destination for connecting, but a resource for educators on how to teach in an outdoor environment.
I am so thrilled by what ICG has become and what it will become in the future. We will miss Erin, but I know she will be back to visit often and hopefully, she will be sharing new insights from her life beyond ICG. Thank you Erin, I wish you fun new adventures.
Monika Roth, ICG Co-Founder
---
I feel very fortunate to have worked with Erin so early on in my career. I knew from the start that she was there to support me. Erin saw my potential and sparkle and helped to remind me of it. She was not just a manager but a mentor and a friend. Erin's impact was deep. The deep and lasting impact she had on me and other members of our team is a testament to that. Thank you, Erin!
Tori Chamberlin, Former ICG Philanthropy Associate
---
To say that Erin Marteal has been a phenomenal leader for the Ithaca Children's Garden is a gross understatement. Under her bold, humble and wise guidance, the Garden has grown to become an international destination, with transformative programs that connect children to nature to create a more beautiful, resilient and just world.
Erin has set the stage perfectly for our next chapter of growth, having begun the process for the construction of an Urban Environmental Education Center, all the while leading the entire ICG community–staff, board, partners, visitors and program participants–along a boldly antiracist agenda. Despite our great loss due to Erin's departure from ICG and Ithaca in general, I take solace in the knowledge that her impact will last for a long, long time, and that whatever future projects she may engage in will surely bear tremendous fruit.
Kartik Sribarra, ICG Board Secretary
---
I sat in the same office as Erin, a few dividers over, from the first day she was hired to be the ICG Executive Director. When you work in an office with someone, after a while you know how much work that person is actually doing. I watched Erin over and over again articulate a vision for the Children's Garden, and then I watched that vision spring forth into reality. I had a front row seat for the transformation of the Garden under Erin's direction from almost nothing to the highly-valued, dynamic community resource that it is today.
Erin is magic as far as I am concerned, one of the few magic people I have ever met.
Dan Klein, ICG Site Committee
---
I attempted to look up a quote to sum up what it was like to work for and alongside Erin. I wanted to find a piece that encapsulated her leadership ability, dedication to the community, commitment to her staff, and optimism. There are many leadership quotes about lifting others up or trading your own time for others, but nothing that was quite on target.
Erin was a breath of fresh air in my life; she gets to know all of her staff members while respecting their rights. She never questions the dedication of her staff to ICG's mission. When I have a question or an idea, she is quick to answer and even quicker to support me through her own knowledge and connections. Erin knows what it means to leave a place better than she found it and while I am sad to see her leave, I know she is leaving ICG in the best place possible and leaving her staff inspired and with a drive to grow the organization even more.
Kelsey Brewster, ICG Playful Nature Explorers Lead
---
Working with Erin Marteal at ICG for 2 years offered me a consistent demonstration of the dedication and determination required in environmentalism and sustainability, while fostering positive change through empathy and care for the community. I use the lessons Erin taught me as my boss and mentor every day, and I'm honored to be able to call her a friend.
Andrew Slaughter, ICG's first Americorps Vista member
---
Erin has this amazing ability to assure and handle any situation with the upmost care and energy it deserves. Erin once gave me a tour of the garden on our golf cart upon our first interaction with me visiting the garden for the first time. I felt so special and welcomed and will remember that for the rest of my life!
Ritza Francois, ICG Director of Development
---
Erin has given so generously of herself, her heart, her myriad skills and her creative vision to the Garden. She has provided a rare kind of nurturing leadership that has enabled me to love my work, and grow in my role in my time with ICG. I am forever grateful for the opportunity to work with Erin, towards the mission that ICG so strongly values and strives for.
Lauren Salzman, Senior Educator CCE & ICG
---
Erin's leadership came into my life during a time of unexpected personal uprooting (while in the midst of uprising, in the throes of a pandemic). My first few months here I had felt as if I were constantly tightrope walking along a razor thin edge of hope. And when the threat of plunging into despair was a gentle wobble away, I found footing in the work, in our team, and in the culture of empathy, courage, openness, and vulnerability that Erin cultivated within each of us. With a team like ours, doing the work that we do, there is no way to lose faith.
I found healing in Erin's trust in me to show up, to do my job, in feeling welcome to bring my whole self – something so rarely afforded to Black women in the workplace. I wish everyone could experience being valued as a person, and not just an employee, in their careers. This is what will live in me for all my days, and when I take up a leadership post of my own, it is my biggest hope that I am able to lead in a way that is influenced by what I've learned from her.
Erin is in the Garden despite being hundreds of miles away. Her impact has been enormous, and it is a privilege to be able to maintain and build upon the foundation she has dedicated the last decade to laying, while she embarks on a new journey and shares the gift of who she is to new endeavors and teams. I'm honored and thankful beyond measure, by having worked with Erin.
Monique Caraballo, ICG Communications & Marketing Coordinator
---
 Ithaca Children's Garden is a magical and special place for kids, adults, and families because of Erin. The Garden she developed and natured over the last decade is the greatest testament to her vision, hard work, dedication and leadership. A generation of Ithaca area kids are better off because of Erin and the ICG experiences she created. She will long be remembered, cherished and missed.
Adam Schaye, ICG Board Vice President
---
The work with Erin and ICG has made a great impact on the lives of the children at GIAC.  What started as trips to the Anarchy Zone, developed into campouts in the garden to designing our own pollinator garden at GIAC.  The children that have been a part of this experience have developed an appreciation of nature and horticulture that was not previously there.  Thanks to this relationship, our staff, participants, and families all have a better understanding of our community and the natural resources that exist within it.
Brandon Blas, Greater Ithaca Activities Center (GIAC) Program Coordinator