DIY Cozy Winter Potpourri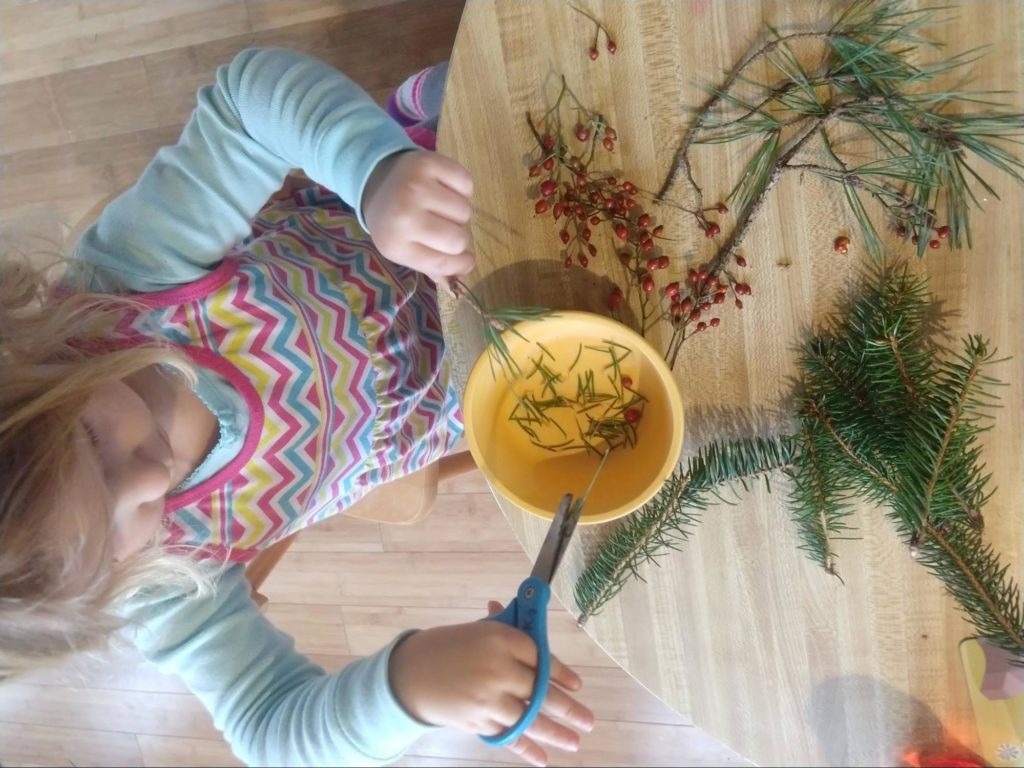 Freshen up your indoor air with Winter Potpourri – let our Outreach Educator, Lauren show you how!
Go for a walk and gather some branches from evergreen trees. In our family, we always ask the tree's permission first. This is a fun opportunity to seek different types of evergreens, and even get out a field guide to identify! Pines, spruces, cedar, hemlock and firs all work well! Christmas tree trimmings might be an accessible option!
Look for other things outside that might add color, interesting shapes or good smells. We found Multiflora Rose hips. Cones, nuts or other berries might be around, if you look closely!
Once indoors, get out a mixing bowl and start removing needles from the branches and placing them in the bowl. If you have pine needles that are really long, like White Pine, it is fun to cut them! Pulling off the skinny leaves (needles) and using scissors are both great ways to practice fine motor skills. The rose hips were dehydrated before we removed them from their stems, but this is an optional step, they are already pretty dry.
I like to add some additional items as well (plant parts that don't grow here). I like to dehydrate orange peels and use those. Cinnamon sticks, either whole or smashed into pieces are another good option. Cloves or other spices will add to the aroma as well.
Mix all of the ingredients together in the bowl, enjoying the aroma each time you handle the potpourri. If you'd like to add a few drops of essential oils, this is a good time, just be careful about kids touching it undiluted- some can be quite strong.
It can be left in a bowl, or placed in a mesh bag or fabric covered jar for use.
Enjoy!