Adventure December Calendar
We developed an awesome local adventure calendar in conjunction with our partners at the Child Development Council, to get you outside!
A PDF document containing the calendar and activities opens in a new tab, download here.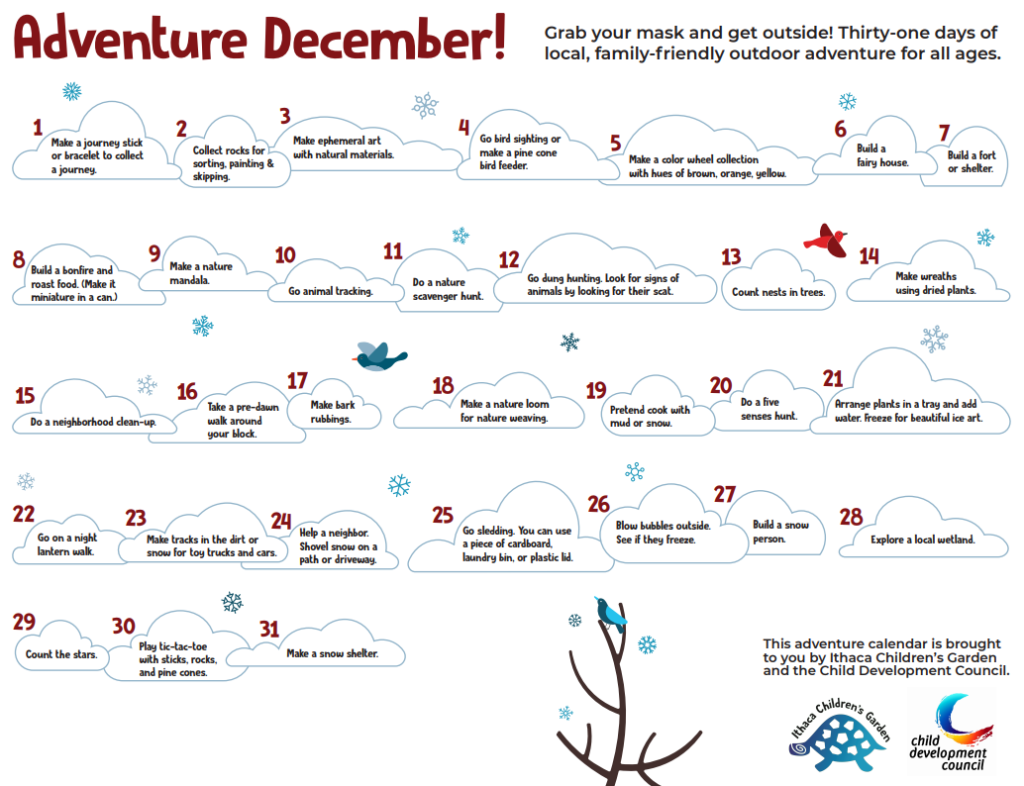 Adventure December!
Grab your mask and get outside! Thirty-one days of local, family-friendly outdoor adventure for all ages.
Make a journey stick or bracelet to collect a journey.
Collect rocks for sorting, painting, and skipping.
Make ephemeral art with natural materials.
Go bird sighting or make a pine cone bird feeder.
Make a color wheel collection with hues of brown, orange, yellow.
Build a fairy house.
Build a fort or shelter.
Build a bonfire and roast food. No fire pit? Make one in a can!
Make a nature mandala.
Go animal tracking.
Do a nature scavenger hunt.
Go dung hunting. Look for signs of animals by looking for their scat.
Count nests in trees.
Make wreaths using dried plants.
Do a neighborhood clean-up.
Take a pre-dawn walk around your block.
Make bark rubbings.
Make a nature loom for nature weaving.
Pretend cook with mud or snow.
Do a five senses hunt.
Arrange plants in a tray and add water. Freeze for beautiful ice art.
Go on a night lantern walk.
Make tracks in the dirt or snow for toy trucks and cars.
Help a neighbor. Shovel snow on a path or driveway.
Go sledding. You can use a piece of cardboard, laundry bin, or plastic lid.
Blow bubbles outside. See if they freeze.
Build a snow person.
Explore a local wetland.
Count the stars.
Play tic-tac-toe with sticks, rocks, and pine cones.
Make a snow shelter.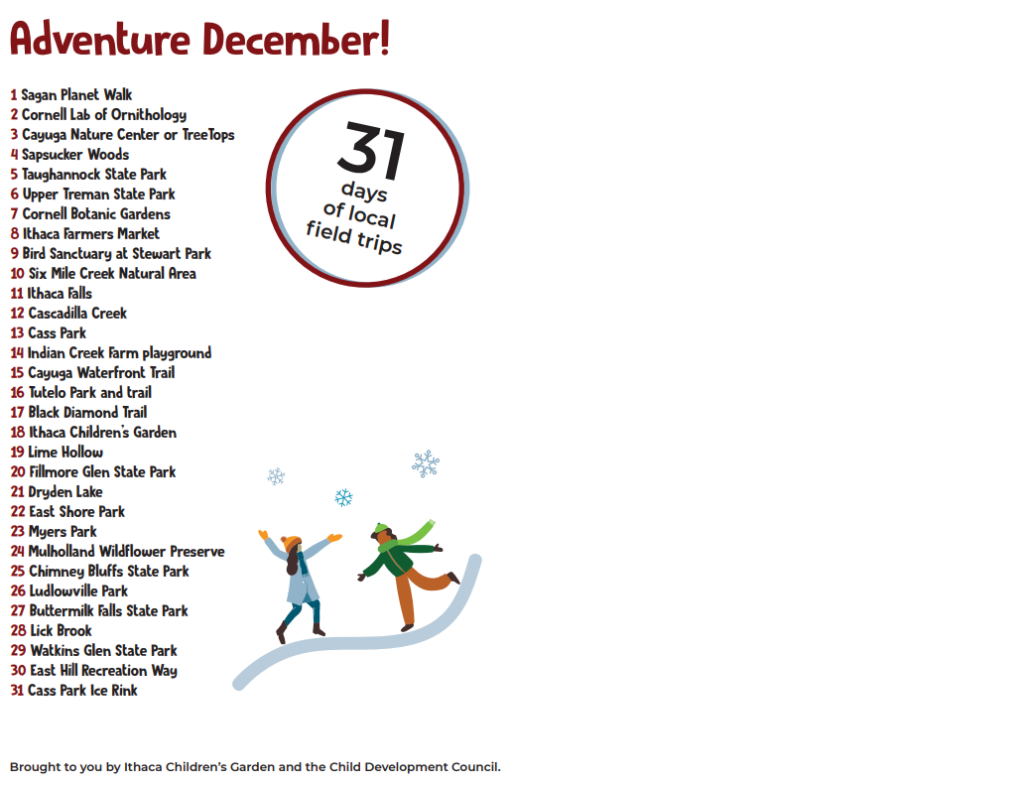 Adventure December: 31 days of local field trips
Sagan Planet Walk
Cornell Lab of Ornithology
Cayuga Nature Center or TreeTops
Sapsucker Woods
Taughannock State Park
Upper Treman State Park
Cornell Botanic Gardens
Ithaca Farmers Market
Bird Sanctuary at Stewart Park
Six Mile Creek Natural Area
Ithaca Falls
Cascadilla Creek
Cass Park
Indian Creek Farm playground
Cayuga Waterfront Trail
Tutelo Park and trail
Black Diamond Trail
Ithaca Children's Garden
Lime Hollow
Fillmore Glen State Park
Dryden Lake
East Shore Park
Myers Park
Mulholland Wildflower Preserve
Chimney Bluffs State Park
Ludlowville Park
Buttermilk Falls State Park
Lick Brook
Watkins Glen State Park
East Hill Recreation Way
Cass Park Ice Rink