Bread is one of the most common foods around the world. It's a food that connects people across time, geography, and culture. Children can easily help make bread and nothing compares to the aroma of it baking in the oven. Learn about bread through these books and then make some bread with your family!
---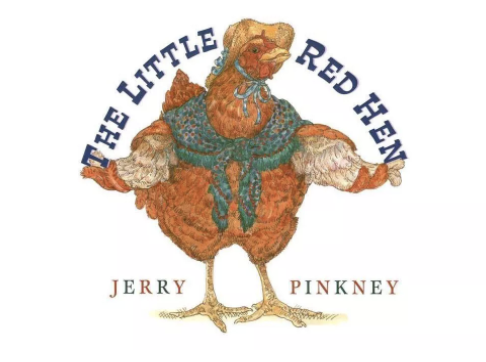 The Little Red Hen by Jerry Pinkney
The Little Red Hen is an American fable first shared in print in the 1870's. In Jerry Pinkney's rendition, we see the hen go through the entire process of bread making from planting wheat seeds to baking bread. It's a great way to connect the food we eat with where it comes from.
---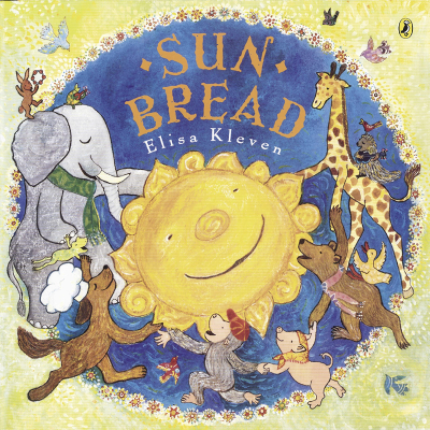 Sun Bread by Elisa Kleven
In Eliza Kleven's Sun Bread everyone in town is missing the sun on a chilly and grey day. The baker decides to bring some warmth to the town by baking sun bread. As the bread bakes everyone comes out to share it together, even the sun. 
---
Bread comes in many different forms. Here are a few recipes that are great for adults and children to make together.
Kids ages 2 and up can help measure out ingredients, stir, and knead bread dough. If you're baking with more than one child, use smaller measuring cups so each child has a chance to help with each step. For example, if the recipe calls for 1 cup of flour and you're baking with three children, use a ⅓ measuring cup and have each child fill it once. Using a smaller measuring cup is also easier for younger children to hold and fill.  
---
Classic Wheat Bread Loaf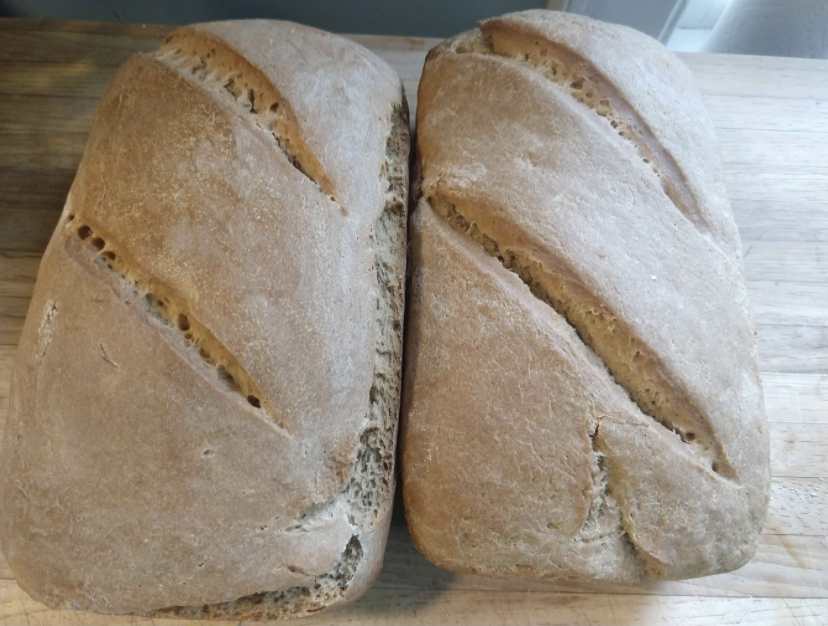 Supplies & Ingredients:
large bowl
wooden spoon or electric mixer
measuring cups & spoons
9X5" bread pan
Plastic wrap
1 1/2 cups warm water
1/4 ounce active dry yeast (1 packet)
1/4 cup honey
3 tablespoons unsalted butter, softened
3 3/4 cups whole wheat flour (you may need as much as 4 1/2 cups)
1/2 teaspoon salt
Cooking spray or oil
Instructions:
Place the warm water in a large bowl and sprinkle the yeast on top. Set aside for 5 minutes to allow the yeast to proof.
Add the honey and butter
Mix in 2 cups of the flour and the salt until moistened. Beat on medium speed or stir for 3 minutes.
Stir in an additional 1 1/4 to 1 3/4 cups flour, until dough pulls away cleanly from the sides of the bowl.  
Transfer the dough to a floured counter or cutting board, knead, adding 1/2 to 3/4 cup additional flour, until the dough is smooth and elastic, about 10 minutes. 
Place dough in a large greased bowl and cover loosely with plastic wrap. Let the dough rise in a warm place until doubled in size, around 45 minutes.
Lightly coat a 9×5-inch loaf pan with cooking spray or oil. 
Punch down the dough and shape it into a loaf.
Place in a prepared pan, cover loosely with greased plastic wrap and let rise in a warm place until doubled in size, about 45 minutes.
 Preheat the oven to 350°F
 Uncover dough, and bake for 40 to 45 minutes or until the loaf sounds hollow when lightly tapped
---
Flatbread (no yeast needed)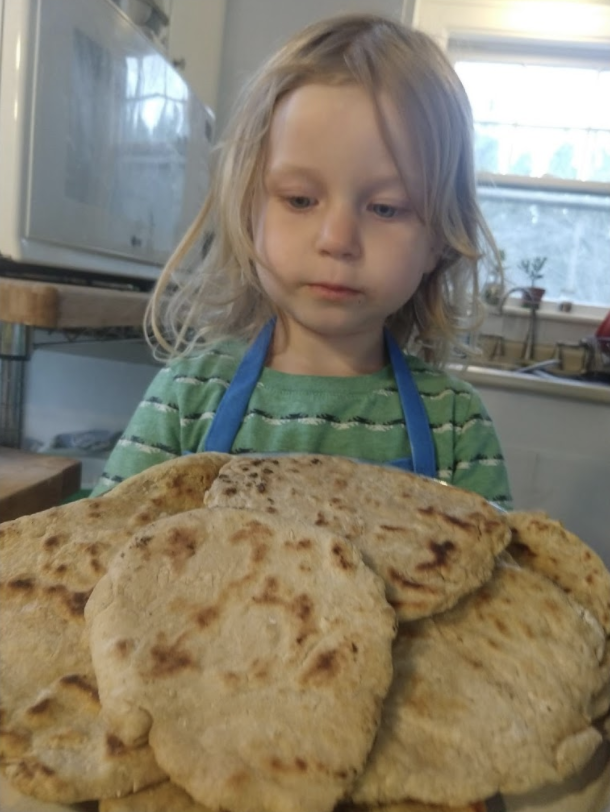 Supplies & Ingredients:
large bowl
spoon
spatula
measuring cups & spoons
rolling pin
large frying pan or skillet
3 cups unbleached all purpose flour
2 teaspoons baking powder
1.5 teaspoons salt
3 teaspoons olive oil or vegetable oil
1 cup cold water
2-4 Tablespoons of oil for frying
Instructions:
Combine all DRY ingredients in a bowl and stir 
Add oil and cold water and mix until you get a cohesive soft dough. You may need more water or to use your hands at the final mixing stage.
Cover and let it sit at least 10 minutes
Divide the dough into 10 pieces
Flour a clean surface to roll your dough on
Sprinkle the top of your dough lightly with flour and using a rolling pin roll it into a flat circle about ¼" thick
Fry your bread in a heated and oiled skillet or frying pan for about 2 minutes on each side (parts of bread will become golden to dark brown)
Add butter, salt or garlic to the top (optional)
Use this bread as you would tortillas or pitas or just enjoyed as a slice of bread.
---
Sun Bread (from Eliza Klevin's Sun Bread)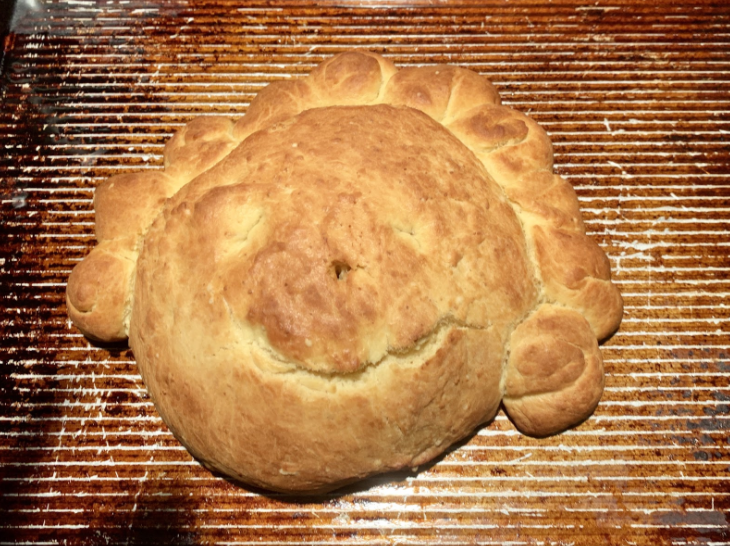 Supplies & Ingredients:
Large bowl
Small bowl
Dish towel
Mixing Spoon
Baking Sheet
3 eggs
3 Tablespoons sugar
2 cups All-Purpose Flour
1 stick (½ cup) salted butter, melted
2 packages dry yeast (4 ½ teaspoons)
3 Tablespoons lukewarm milk
Instructions:
In a small bowl, mix eggs and sugar well.
In a large bowl, combine flour and butter
Add the egg/sugar mixture to the flour/butter mixture and beat well.
In a small bowl combine yeast and milk.  Allow to stand until foamy, at least 5 minutes.
Add the yeast mixture to the dough and stir. 
Move the dough to a floured surface and knead for 8-10 minutes.  If too sticky add a little more four.
Place dough in a greased bowl, cover with a cloth and allow to rise in a warm place for about an hour.  It should double in size. 
Gently deflate the dough, knead for 5 minutes, then separate into 2 portions.
Form the dough into the round part of the sun or another shape you'd like and place on a greased baking sheet.  You can use cornmeal or parchment paper instead if you'd like.
 Used the greased end of a wooden spoon to "poke" eyes or other features.
 Use the remaining dough to create the sun's "rays" or other features of your bread shape. If the dough is dry, use a little water to "stick" the features together.
 Cover and let rise in a warm place for about an hour
 Preheat oven to 450 degrees. Sprinkle your dough shape with sea salt if desired.
 Bake for 10-20 minutes. Test for doneness by sticking a toothpick in the middle.  It should come out clean.