The gift you make today helps us provide weather appropriate outerwear, and equitable access to outdoor play to our program participants. Your gift will be doubled, and along with it your impact, thanks to a 1:1 matching grant from Triad Foundation. But we have to receive it by December 17 to qualify for the full $40,000 match; through the giving of 77 donors we've raised $20,000 and are halfway there! We are grateful for the difference you make, and every gift helps move us closer to our goal.
Lack of access to outdoor equipment can be a huge impediment to participation in nature immersion programs. In better understanding this barrier, ICG created a Gear Locker to supply our program participants with outerwear when needed.
Our Playful Nature Explorers Lead, Kelsey tells us the role ICG's Gear Locker plays in our commitment to providing equitable access to nature.
---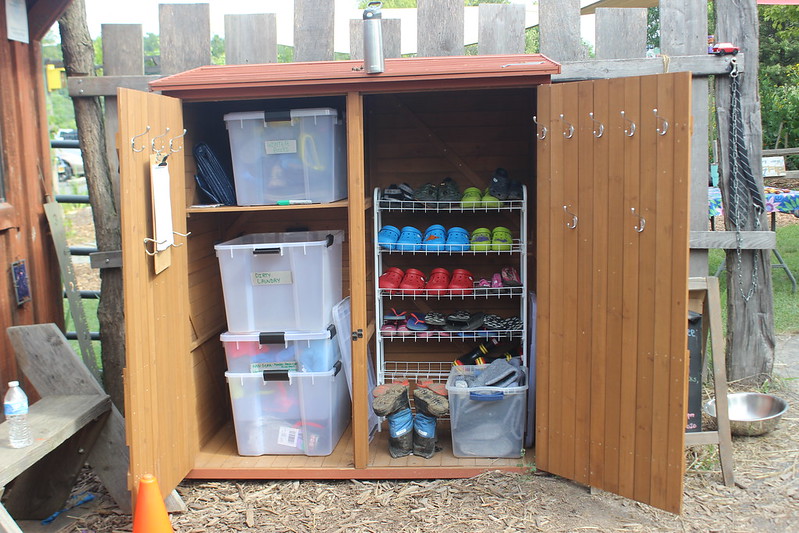 The Gear Locker at Ithaca Children's Garden meets the needs of many program families by having a stocked shed of outerwear. Living through Ithaca weather is a lesson in unpredictability as many know, and coming to a program at the Garden unprepared can be the difference between having fun and feeling miserable. When children come to any program at Ithaca Children's Garden, caretakers can be assured that their weather gear needs are being met no matter what the circumstance. Hats, mittens, boots, rain suits, and coats can all be found in the Gear Locker and provided on surprise rainy or cold days.
It can be a challenge and a barrier for many families to provide outdoor gear. "There's no such thing as bad weather, only bad clothes" is a phrase that is tossed around from outdoor community to outdoor community, but what about the financial burden of those who are unable to meet that clothing need? Ithaca Children's Garden is committed to providing equitable access to the outdoors, and that means supplying adequate equipment.
The Gear Locker is maintained by Garden employees throughout the year. Some of our gear is donated by local organizations and businesses such as Mama Goose, and some we buy ourselves as needs arise.
We are grateful to all who have supported the gear locker and ICG's work in the past and to all who support ICG today, ensuring that every child has access to the benefits of nature. Please join us this year and make a gift by December 17 to double your impact up to $40,000 thanks to a challenge grant by Triad Foundation. We need you to make a real difference for the children and families in our community.
Thank you!