Kate Travis in the Garden
Kate Travis (Board of Directors) and her husband Frost have lived in Ithaca since 2007 and have two boys. Her interests are anything to do with kids, the arts, education, food and cooking, and the Ithaca community. The following is her Garden story.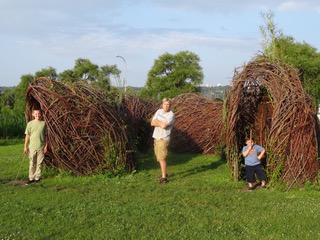 My friend Allen was in the area and wanted to visit us in Ithaca. Allen travels the world to see neat stuff. He was in Palmyra, NY, to see the spectacle/passion play Hill Cumorah. He wanted to drop down to visit and see the boys.
Allen is a nomad, and doesn't want to see The Uge. Taughannock Falls, Farmer's Market: been there, done that. Allen couch-surfs across Europe, Allen stops in to work at an elephant sanctuary in Thailand. Allen wanted a Weird Ithaca tour.
So we head over to the Convention and Visitors Bureau to get a few ideas. They didn't have much, but we ran into my bubbly friend Jean, who had some suggestions. Start on campus at Uris Hall, and see the brains in the jars on the second floor. Go up the clock tower during the ringing of the carillon. Check out the murals downtown, and the illuminated constellations in the ceiling of the State Theatre.
To cap off our Weird Ithaca tour, we stopped at Ithaca Children's Garden. The other-worldly Patrick Dougherty willow sculpture was a backdrop for some fun photos in the last sunlight of the day. And it was bonus fun to see my world-traveled friend play on the swing in the Hands-On Nature Anarchy Zone.
The Children's Garden is a unique resource for our community. Our own, quirky, Weird Ithaca community.