Monique Caraballo in the Garden
Monique Caraballo, ICG's Communications & Marketing Coordinator since July 2020, shares the personal way she connects to the Garden to help both herself, and the Garden grow.
I spent my early childhood in New York City. Just a few blocks away from Central Park. I can remember exploring, always skipping a little too far from my mother so I could pocket the pretty rocks before she told me I couldn't. I'd come home muddied, and exhausted, smelling like sunshine – ready to do it again the next day.
I spent my teenage years in Hawai'i. Jumping from the tops of waterfalls into cold pools below, tasting hibiscus flowers right from the trees, marveling at natural wonders I couldn't believe existed; ʻĪao Needle, the black sand beach at Waiʻānapanapa, a Haleakalā sunrise.
I've spent most of my adulthood here, in this city. Walking the Cascadilla Gorge trail, photographing rainbows at the base of Ithaca Falls, feeling the first crisp autumnal days surrounded by red, yellow, orange leaves – brazen with color, their last show before turning dull in the winter. Last year, I discovered that I love to garden, and have filled my home with as many houseplants as my kitten will allow. I will always go on a hike. I will always run barefoot in the grass. I will always cry at the first bright, warm day in Ithaca.
My love for nature, and the outdoors, has grown with me. Many of my children share in that love. I have an absurd amount of gifts of rocks and dried flowers stored in trinket boxes and in between pages of journals, given to me by my children.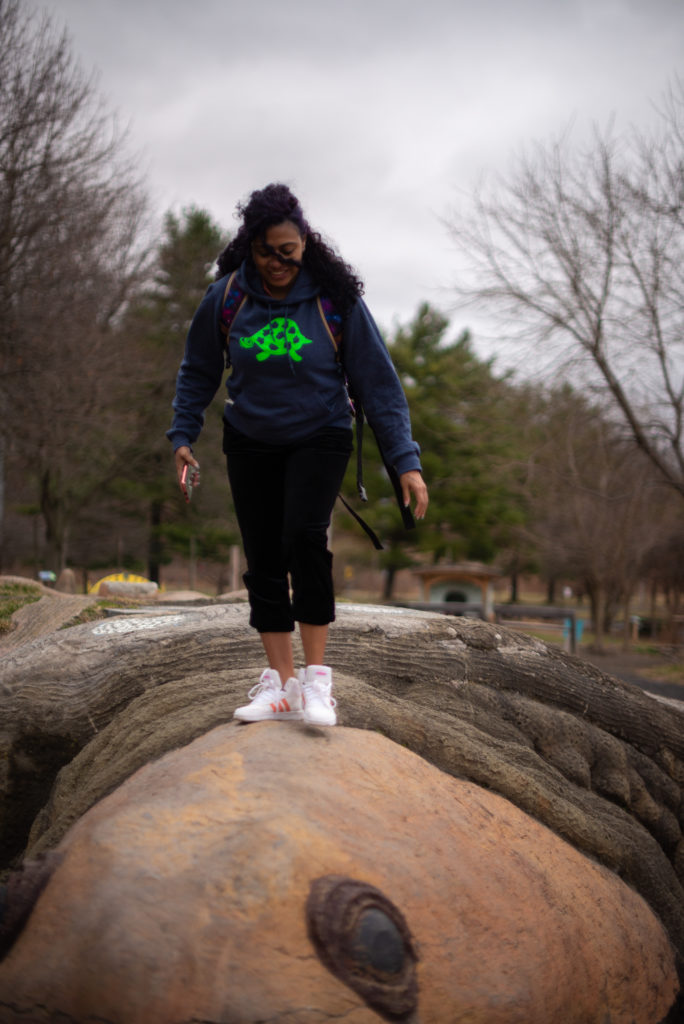 At ICG, [URL] we've spoken about how Black and brown folks have not been welcome or safe in green spaces. I experience my fair share of feeling unsafe, and unable to bring my whole self to green spaces.
Seeking bliss in nature has never been effortless for me. Each of my experiences have been met with resistance, and fear, and doubt, every step of the way. Always understanding there's a chance I, or my children, will encounter, or bear witness to, an act of racism.
This inability to be wholly who we are, to feel unabashed elation without judgment or fear, is something my children know painfully well. I've heartbreakingly had to ask my boisterous sons to quell their jubilance, to behave according to what white supremacy feels is "appropriate" so they can be allowed to play without being followed, disrespected, or viewed as "threatening" because they're playing while melanated.
It feels like such a simple wish; to be able to exist as we are wherever we go, but my search for spaces that provide this peace of mind is never ending.
This role as ICG's Communications and Marketing Coordinator, is the most spectacular marriage of my profession as well as my passions. In community with colleagues I am able to speak on inequities, challenge ideologies, and share my lived experiences as an unapologetic Black woman, as a neurodivergent, and as a mother. It can be exhausting in different ways than playing in the balmy sun can be.
The fire in my stars, the Blackness of my skin, the nature play in safe spaces that my children and children like mine are entitled to as humans, embolden me to speak up and relentlessly press for tangible change, because equity and access do not happen through conversation alone.
You can find me there unbridled and audaciously whole. Kneeling in the dirt with my camera to get a closer shot of the flowers, or hiding away in the tube in our Hands-On-Nature Anarchy Zone, hula hooping atop Gaia's back, and tasting everything the Kitchen Garden has to offer. We belong in the Garden, and the Garden is made better and brighter when it sees our unabashed Black joy, I hope to see you there too.