It was a sunny spring day and the Garden was bursting with color and new life. I was privileged to be joining ICG Afterschool for my work as the ICG Americorps VISTA member, and I was so excited to play with the kids.

When I arrived, I was swept off to the Hands-on-Nature Anarchy Zone. I was buried in the dirt with small shovels and excited laughs. A few kids picked flowers and put them in my hair, and another child gave me branches to hold. The kids stepped back, satisfied with their work, and told me that I was a tree in the Garden. As a tree, I would be another home for birds to nest and life to grow. The kids lost interest and moved on to their next project. I stood there with my feet buried and thought, yes, I will be another tree in this Garden for life to grow. I wiggled my toes in the dirt and felt my roots taking hold.

I came from a background in environmental education. After college, I fell chronically ill and didn't have the stamina and mobility to keep up with kids. I felt at a loss for how to move forward. I applied to be a VISTA (Volunteer in Service to America) member at ICG in 2018, really not knowing how an office job would go. I needed to get back into the world of supporting kids' discovery of the natural world. Finding the position felt serendipitous. I could use my skills, learn more about working with a nonprofit, and be a part of a team whose mission aligned so closely with my passions.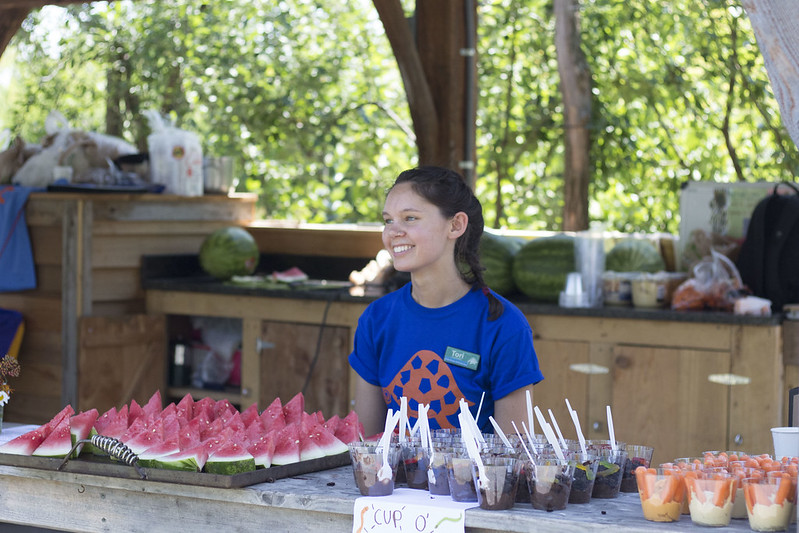 Fast forward almost 4 years and I could never have imagined how transformative of an experience working with ICG would be.

I was always encouraged to jump in if I had an interest in learning a new task. I learned skills not only in my position focused on fundraising and development but in marketing and communications, event planning, education planning, staff recruitment, accounting… you name it! To say ICG has helped me grow my resume significantly feels like an understatement.

Most importantly to me, I was supported in my personal growth. It was challenging for me to learn to balance the needs of my chronic illness with what drove me to keep doing more to make an impact. I felt seen as a member of the team and was often reminded that my work was impactful.

The relationships I've made with the staff, volunteers, and greater community mean a lot to me. These uplifting relationships supported me when I needed to step away from my position on short-term disability leave and when I had to make the difficult choice not to return. I am sad to be leaving the staff, but I will always feel a part of the ICG family.

Thank you to all who made my past four years with ICG such a sweet experience.