ICG Scholarship Fund to Aid Refugee Families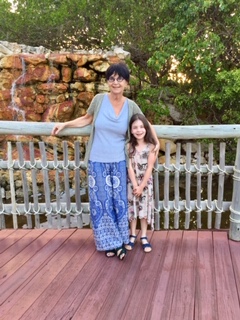 Katherine Doob, former Ithaca, NY, resident, has given Ithaca Children's Garden (ICG) a generous donation to establish a scholarship fund to aid refugee families who are interested in attending ICG programs.
With a long history in working towards inclusivity, Katherine, hopes that the scholarship fund will make a local impact. "Even if it is small, I hope to provide some help and make a difference," she stated.
Katherine is involved in the International Rescue Committee (IRC) and has focused on the war in Syria, working to help with the plight of the refugees from that country. This work made her think about ways she could do something to help locally; although she now splits her time between NYC and Florida, she has always considered Ithaca her home. This spark was the beginning of a special relationship with ICG to create the Alston Scholarship Fund.
She was first drawn to the Ithaca community for its inclusive environment. She lived in Ithaca from 1976-1999, raising her children. Katherine had a career at Cornell in the early 1980s, working on targeted community outreach initiatives, focusing on connecting students to education. Specific initiatives included connecting students to science education as well as connecting with minority students and students who thought higher education was out of reach.
Katherine was charged by President Frank H. T. Rhodes, of Cornell, to start the Cornell Public Service Center. Founding the center in 1991, Katherine spent the rest of her career at Cornell working on building the goals, reach, and capacity of the center until she moved in 1999. In addition to leading the Public Service Center, Katherine worked on programs recognizing outstanding teachers and initiatives encouraging minority students to pursue PhD programs in the humanities. Her son now works at Cornell and she comes back into the area to visit.
Through her time working at Cornell, Katherine was familiar with Ithaca Children's Garden (ICG), but did not become more involved until the passing of her grandson, Alston Alexander. Alston's passing lead to her involvement in the Garden's Bulb Labyrinth Memorial Garden, which was founded in collaboration with Ithaca Prenatal Loss Support. Through her involvement in setting up the memorial garden, Katherine began to learn more about ICG's programming and really liked what the nonprofit had going on. Katherine and Erin Marteal, ICG's executive director, began to cultivate a relationship and Katherine thought of the organization when wanting to set up a refugee scholarship fund.
There are a lot of worthy charitable organizations within the Ithaca area, but Katherine feels a very personal connection to ICG with her grandson's memorial in the Bulb Labyrinth Memorial Garden. She also admires the programs ICG offers and appreciates the organization's initiative for diversity and inclusion.
Katherine hopes that the Alston Scholarship Fund will help refugee families participate in ICG programming and in turn become better integrated into the community. "Ithaca is small and very inclusive, but any action to help connect community members is powerful," Katherine stated in a recent interview about the fund. She hopes to provide a bridge to get families connected. Katherine intends for the scholarship to not only benefit the refugee families who receive the scholarship, but all who attend ICG summer programs as well, as everyone benefits from exposure to diverse backgrounds and cultures perspectives.
All are welcome to contribute to the Alston Scholarship Fund at ICG, which supports Katherine's vision of coming together in support for the larger mission. When asked what advice she could give to anyone looking to set up scholarship fund, or contribute to one, she stated, "I would advise them to make sure that each person's agenda is recognized and that there is a benefit to all parties involved. This includes talking with the organization and truly hearing how it will benefit the organization. It can take time to realize the scholarship fund/program, but everyone has to have a stake in it for its success."
"The Alston Scholarship Fund will not only have a direct impact on refugee families and other families in need," states ICG's Executive Director, Erin Marteal, "we hope it may inspire others to contribute to the Fund which is critical to ICG's fundamental philosophy to never turn anyone away for lack of funds."
"With everything we know about systemic inequities related to access to green spaces, this kind of gift is particularly important," says Marteal. "We are extremely grateful for Katherine's gift and the resulting impact on the young beneficiaries."
Learn how you can contribute to the Alston Scholarship Fund by contacting Erin Marteal at erin@ithacachildrensgarden.org or 607-319-4203.