Muddy play can be one of the most joyous sensory experiences of childhood. At Ithaca Children's Garden, we're fortunate to have the Hands-on-Nature Anarchy Zone where muddy play can roam wild and free. Bring some of that muddy play home by creating a muddy play space in your yard, on your patio, in the driveway, or even (gasp!) inside.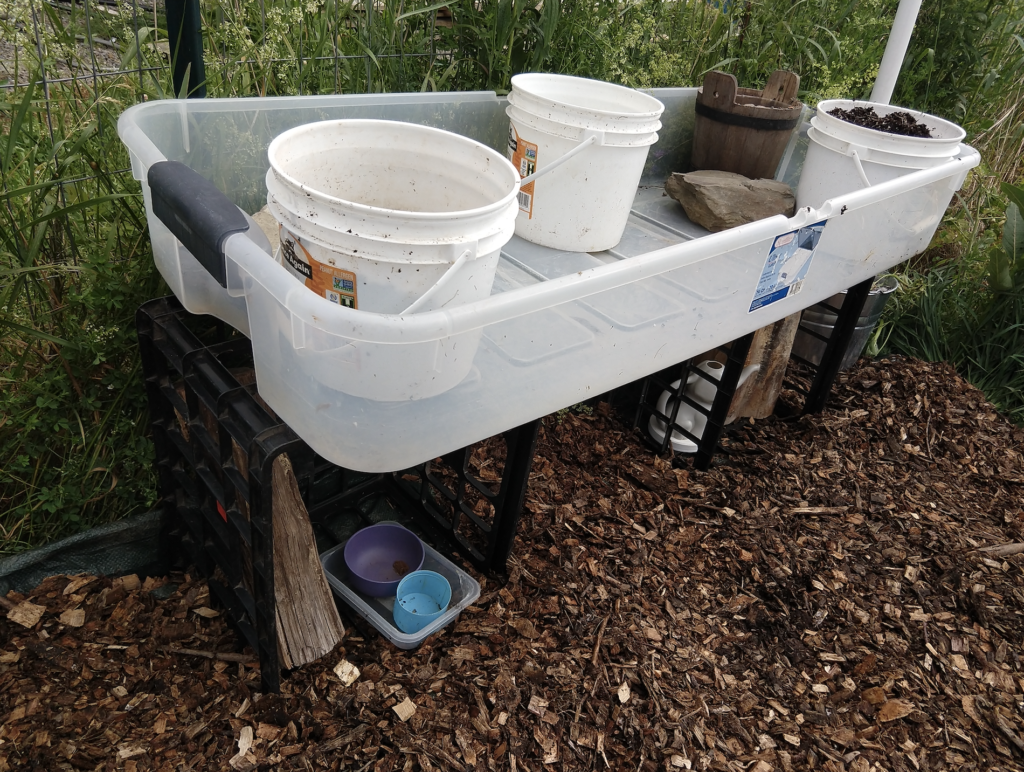 This setup outlined here is ideal if you don't have much space, or simply have lots of non-muddy preferences for your space. Look for a shady spot, roughly 4'x4'. A little smaller will work, bigger always works.

Look around for anything you can recycle or upcycle for your muddy play space. Neighbors and friends might have just what you're looking for headed for the curb.
---
For our play space we use:
2 plastic milk crates
A long shallow plastic storage bin, similar to the ones that fit under beds
A few 1 gallon buckets (sand pails, bowls, yogurt containers would all work well)
Potting soil or soil you dig up
Sand (optional)
Water
Small rocks and chunks or wood or twigs
Cups, scoops, old kitchen utensils

Old measuring cups and spoons
Small watering cans
Spoons
Old muffin tins or cake pans
Small bowls or cups
---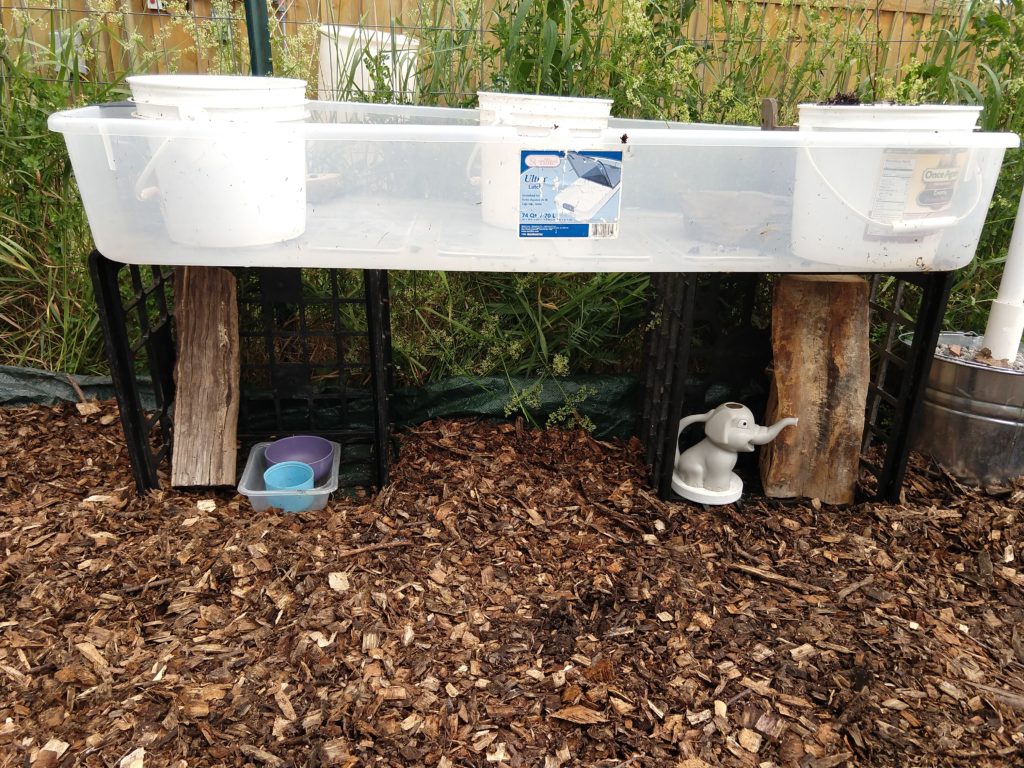 The long shallow plastic bin is great because it provides ample place for play and allows for 2 children to play side by side. No long bin? Set up a couple smaller ones near each other.

Shallow bins allow smaller children to reach all the fun but still keep the mud contained. A flat surface, like plywood, can work too. Some people get fancy and install an old sink basin, but you could also just put a bowl on the surface. Bins can be set on the ground but elevating them allows for different types of play. Milk crates work well but really anything stable will work.
---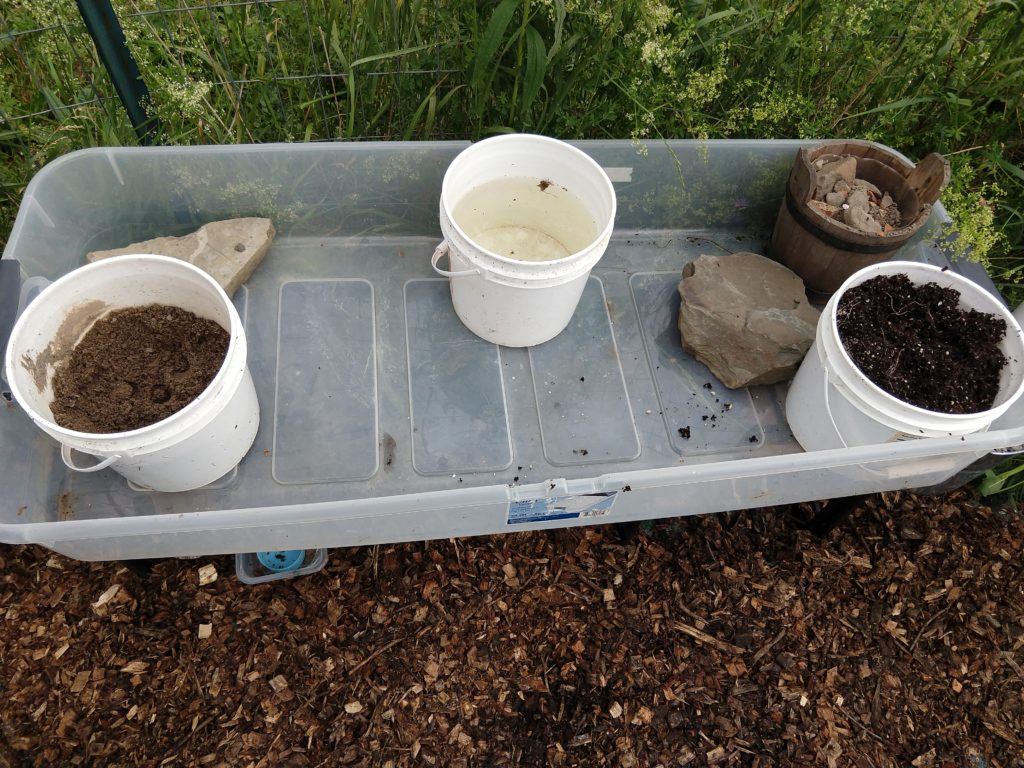 Pre-fill a few of the larger buckets or bowls with the "main ingredients." Soil and water are a must for mud but also consider providing sand, small rocks, and twigs or wood chips.
---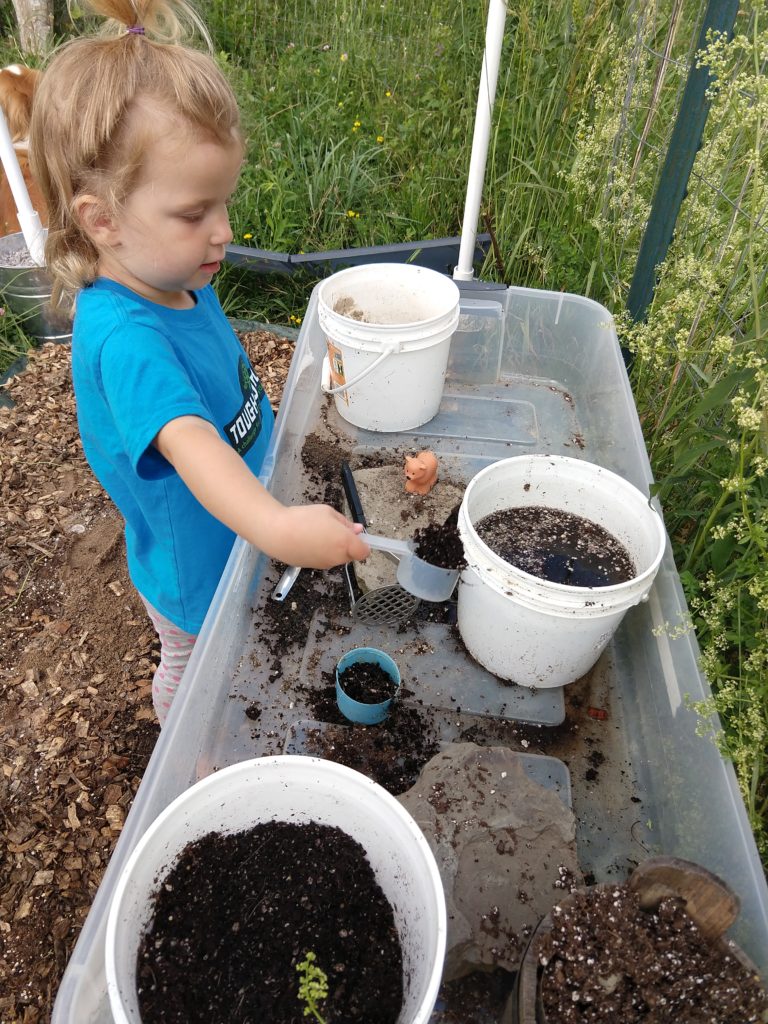 Stock the space with extras – loose parts that enhance the play. Got a mud pie chef? Include an old muffin tin, pie plate, or bread pan. Measuring cups and spoons are great for transferring elements. Make sure there is a large spoon for mixing, and some small bowls or cups handy.
---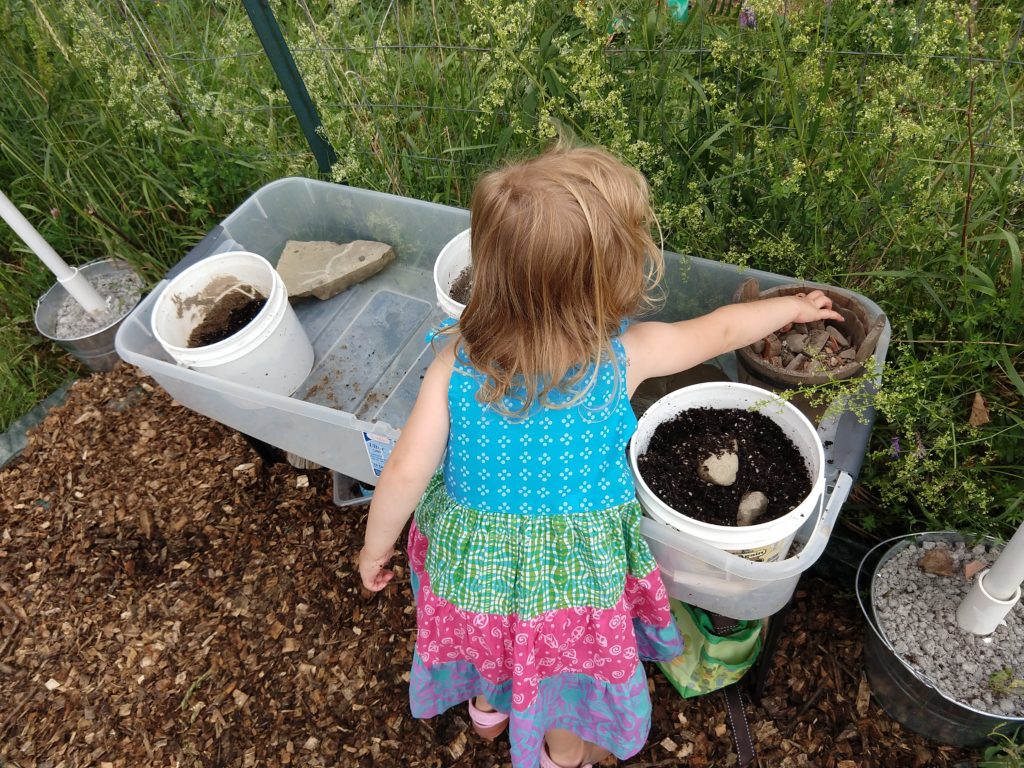 Muddy play spaces are ideal spots for depositing "collections." Pinecones, rocks, flowers you've deadheaded, and handfuls of dandelions will get incorporated into play easily.
---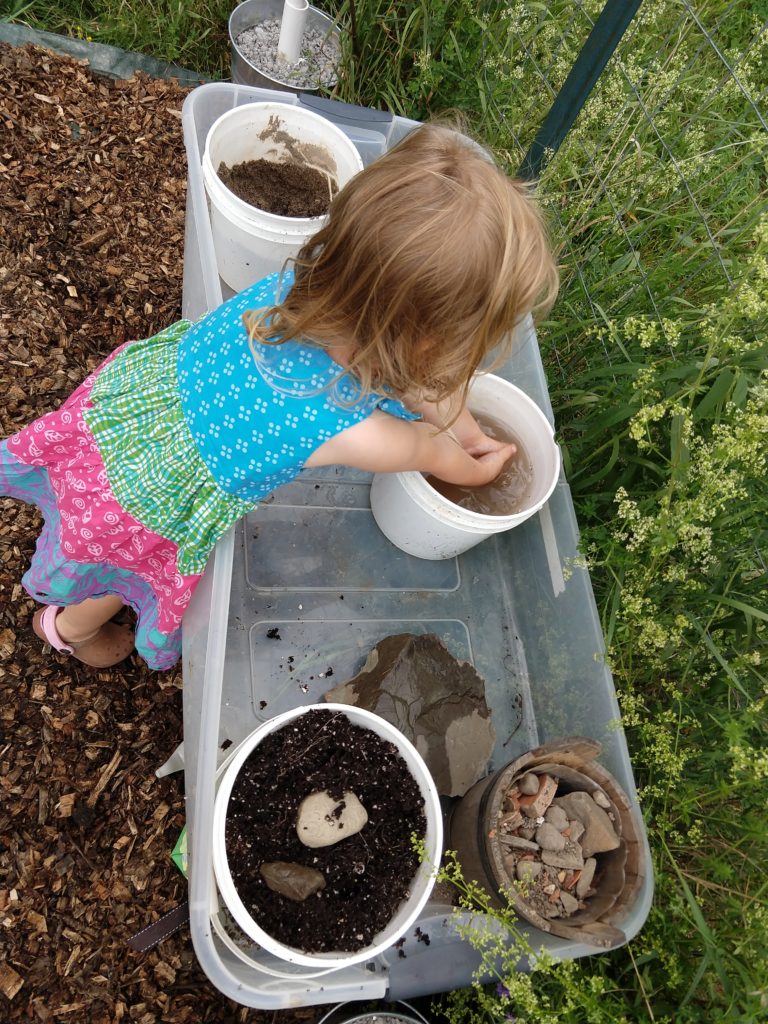 No need to clean up every time. Think about a "reset" once a week or two but for the most part, just let the mud flow. You'll probably be asked to refill water frequently and may need to replenish soil now and then. If you have a space that's ok for children to dig, make a trowel available for them to dig up their own refills.
---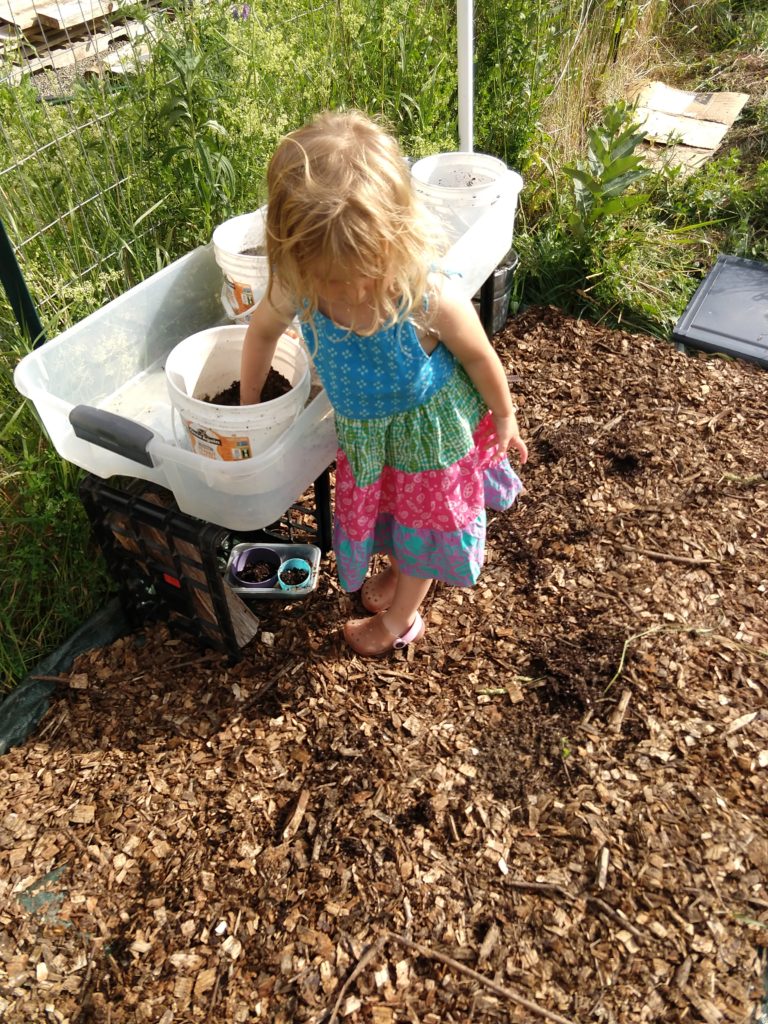 Share your Muddy Play Space photos with us for a chance to win a $20 gift card to Cayuga Lake Creamery & a bundle of ICG merchandise!
Tag ICG in your social media posts or email alana@ithacachildrengarden.org