Playful Nature Explorers Returns this Spring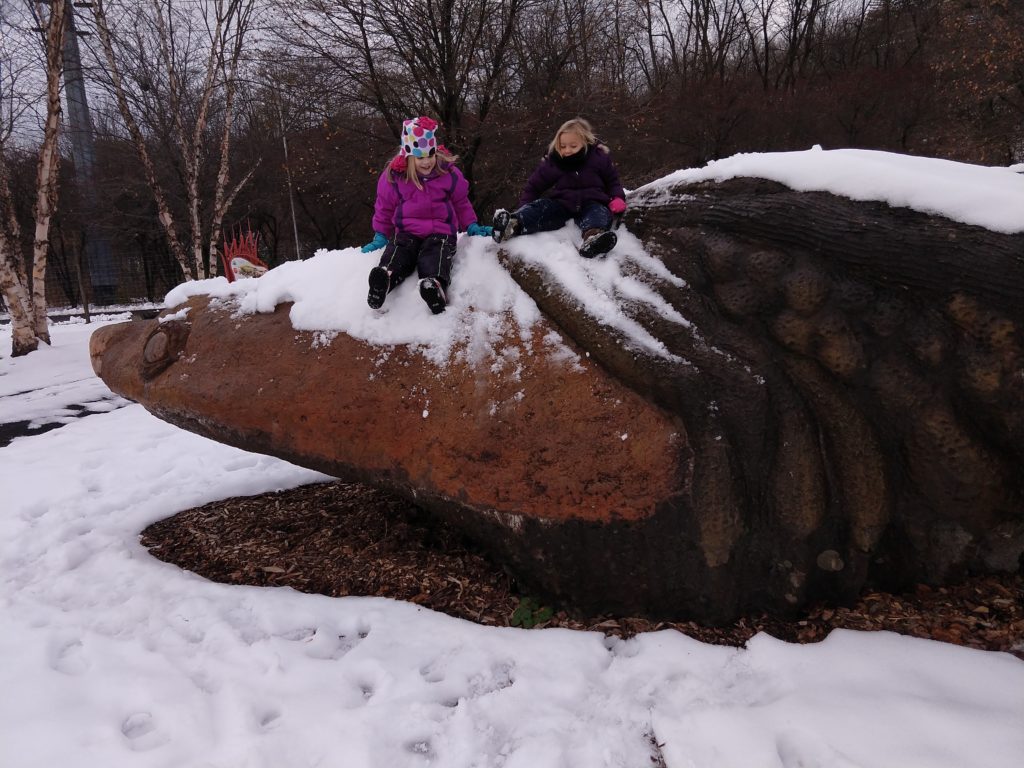 Most mornings, if you visit Ithaca Children's Garden, you'll see a group of preschoolers, 2.5-6 year olds, wind-swept and a little muddy, deep in play and exploration. Often, I'm at the Garden for another reason entirely but the first thing I look for is Playful Nature Explorers. Sometimes their laughter and puddle splashing gives them away. Other times, it's a quest for a glimpse of bright colored rain pants or an unexplained rustling in the meadow grasses.
It's been almost a year since Playful Nature went on hiatus at the beginning of the pandemic. Although I knew each morning I stopped at the Garden I wouldn't find them building hideouts in the Hands-on-Nature Anarchy Zone or searching for the last few green beans in the Veggie Garden, I looked for them nonetheless.
When we set March 1st as the date for Playful Nature to return to Ithaca Children's Garden it felt like that one ray of sunshine that breaks through the clouds. It's rainy out, thunder still audible in the distance, clouds lingering, but we're going outside to play anyway.
We have our gear (masks and hand-sanitizer). We have a plan (a new contactless sign in and sign out system and daily health checks). We have the gumption (two new team members and a garden shelter in the works). And, we have the heart (children and families). We are ready to play, and learn, and grow together again and can't wait to get started.
The beginning of March is when we see the first signs of the Garden waking up from winter. The snowdrops are first, then the robins return, and before you know it the Garden is full of color and sound and activity. Playful Nature is very much the same. The snowdrops and robins are ready to start March 1st. Families that are returning from the 2019-2020 season and those who were hoping to join this fall are all set to go.
However, there's room for more. If you've been thinking about a play-based, nature-centered preschool program and love the idea of spending mornings outside, immersed in the wonder of Ithaca Children's Garden, now is the time. We're keeping it small, only 12 children in the spring session, which runs from March 1st-June 17th. Preference will be given to 4-day and 3-day schedules, allowing us to keep the cohort small. The new COVID policies are available on the ICG website if you're curious and as with all ICG programs, scholarships are available.
Registration is available online. Drop us a line at register@ithacachildrensgarden.org if you have any questions. We're counting down the days until March 1st. Whether you become an Explorer with Playful Nature or visit the Garden as a family, we can't wait to see you at the Garden this spring.
——————————–
Playful Nature Explorers
For children ages 2.5-6
Monday-Thursdays, 9am-12pm
@ Ithaca Children's Garden
Enrolling for the spring session: March 1st – June 17th
Contact register@ithacachildrensgarden.org with any questions
Tuition and scholarship information, Parent Handbook, COVID policies, and FAQ's available on the ICG website.