Introducing Scarecrow Jubilee's Special Guest
On Saturday, October 21, 2023, the Scarecrow Jubilee attracted over 470 visitors to Ithaca Children's Garden for activities like scarecrow-making, pumpkin carving, and marshmallow roasting in celebration of the harvest season. Among the attendees was New York Senator Lea Webb of the 52nd Senate District.
"Senator Lea Webb's visit was such a welcome addition to the Scarecrow Jubilee this year!" said Candice Meade, ICG's Executive Director. "With the excitement of Halloween just around the corner, many kids came to the Garden dressed-up in their best costumes. Senator Webb handed out candy bags and Halloween safety tips to children and scarecrow builders of all ages, making for a fun and festive fall event connecting children and families to enriching outdoor activity."
On Senator Lea Webb's Instagram and Facebook, she wrote: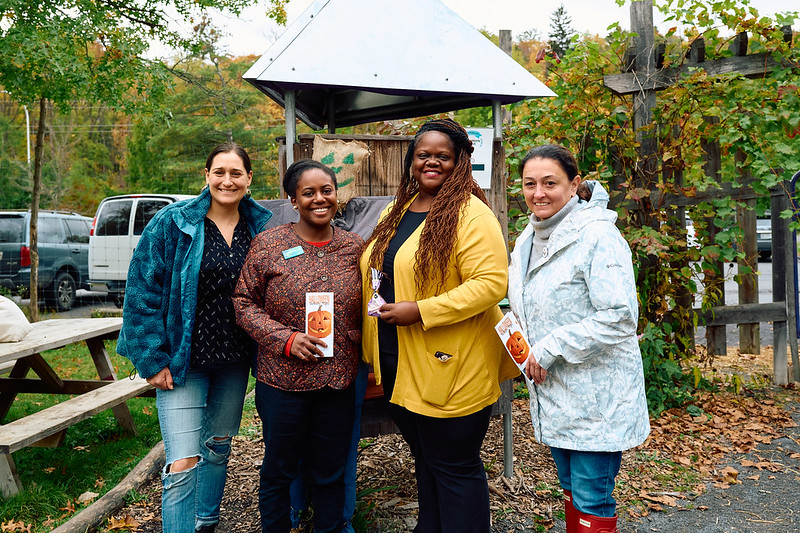 "I had a lot of fun at the @ithacachildrensgarden's Scarecrow Jubilee! Loved passing out candy to adorable kids, watching them build their own scarecrows, and enjoying all the autumn-themed activities."

Posted by Senator Lea Webb to her social media accounts
(From left to right): ICG Board Member Jenna Hallas, ICG Executive Director Candice Meade, NY Senator Lea Webb, and ICG Board Member Kate Travis.
ICG Board Member Jenna Hallas shared her experience while touring with the Senator: "Webb took the time to introduce herself to community partners and volunteers; she inquired genuinely about their work and thanked them. In addition, Webb connected with Garden staff and expressed how much she appreciated ICG's mission and the experiences young people have when they come visit."
Thank you Senator Lea Webb for joining families and children at Ithaca Children's Garden for the 20th annual Scarecrow Jubilee!
The Scarecrow Jubilee was made possible through major sponsorship by Cayuga Landscape and additional support from The Home Depot, Wegmans, and Mazourek Farms.
---
Click Here for the Full Event Recap

Even with stormy gray clouds foreshadowing rain, visitors enjoyed a fall afternoon filled with family fun (with only a touch of drizzle towards the end.) Everywhere in the Garden, laughter echoed, reflecting the joy on kids' smiling faces as they immersed themselves in the various activities put on by ICG garden educators. As children completed their scarecrow masterpieces, each one was showcased along the Garden's gates and fences, highlighting their unique styles and vibrant personalities.

One child named their scarecrow Harold, illustrating the sense of engagement and ownership kids develop when they take the lead in activities requiring creativity and risk, something ICG always promotes during play and aims to inspire during family activities at home.

Visitors were entertained long after they had finished their scarecrow masterpieces, with live music, a puppet show from Lily Silly Puppets, and activities offered by ICG's partners: Cornell Entomology, SNAP-Ed NY of the Southern Finger Lakes Region, and NYS Parks.
You can share your Scarecrow Jubilee experience with us and have the chance to be featured by submitting your stories and pictures through ICG's online Feature Friday form–no email or social media required.